Discover America's Most Foot-Friendly City This Summer at The Revolution Hotel
Boston may well be the best walking city in the country. Thanks to a compact downtown, an endless list of historic sights, a range of notable architecture, and lush, urban parks, the city is a haven for those who like to explore on two feet.
The Revolution Hotel is an ideal base camp for urban walkers, explorers and anyone who want to enjoy Boston at their own pace. Situated in the heart of Boston's South End, at the intersection of Berkeley and Appleton Streets, it's a haven for those who like to savor the delights of Boston's history, dining, shopping and urban beauty.
The hotel is strolling distance to Copley Square, where the Boston Public Library, "the palace for the people" designed by Charles Follen McKim of McKim, Meade, and White, faces Trinity Church, a masterpiece of American Romanesque architecture designed by H. H. Richardson. It's close to the upscale shops that line Newbury Street and a short walk from the Boston Common, which was America's first public park when it opened in 1634. Consider a trip on the Swan Boats that ply the water in the adjacent Public Garden, the first public botanical garden in the country when it opened in 1837.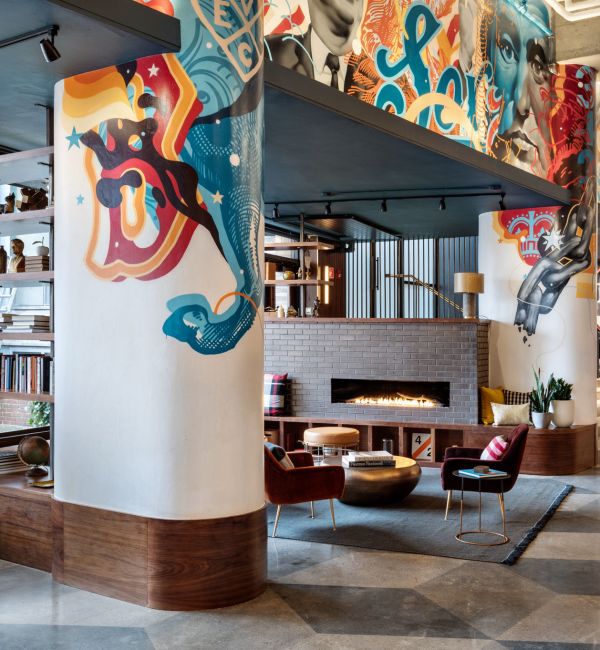 It's easy to take neighborhood strolls from the doorstep of The Revolution and explore the brownstone-lined streets of the South End, with its eclectic restaurants and coffee shops.  It's not far to the heart of the 19th century majesty of the mansions of the Back Bay and tree-canopied Commonwealth Avenue. Plan to walk the Freedom Trail and explore the North End, home to the greatest collection of Italian restaurants in the Northeast.  Or spend a morning on the Harborwalk alongside the city's reinvented waterfront.
Guests of The Revolution are within easy reach of the Charles River Esplanade, that three-mile ribbon of green space alongside the Charles River. Fenway Park is also walkable from the hotel, as are the adjacent Back Bay Fens, which were transformed into a unque park system, the Emerald Necklace, by famed landscape architect Frederick Law Olmsted.
The hotel is ideal for visiting blockbuster exhibitions at the SoWa Power Station, such as this summer's Beyond King Tut immersive experience.
The Revolutionar Hotel has 177 rooms and has redefined the concept of a stylish yet remarkably affordable boutique property in the city. The visionary property opened in 2018 and is a celebration of all-things Boston and the art-filled property is focused on providing good value. It hosts Kohi Coffee Co., a walk-up coffee shop that originated in Provincetown, MA, as well as Cósmica, a Mexican restaurant that serves dinner and weekend brunch. The hotel also has a community co-working space playfully named Conspire. The Revolution offers a 24-hour fitness center and free Wi-Fi throughout the hotel. Dogs are welcome for a $25 fee per stay. As befits a hotel in the country's greatest walking city, The Revolution Hotel is also walking distance from the Back Bay Amtrak station
The Revolution Hotel
40 Berkeley Street
Boston, MA 02116
617-848-9200