The Cat, the ferry between Maine and Nova Scotia, will resume seasonal service on May 31. The high-speed ferry, which takes just 5½ hours to traverse between Portland, Maine, and Yarmouth, Nova Scotia—about 4 hours less than driving—holds up to 866 passengers and 282 vehicles. The entire family can easily settle in for the journey. There's a kids' play area, a cafeteria, cafe, lounge, and even a kennel area for dogs and cats.
The preliminary schedule has the ferry departing Portland at 2:30 p.m., arriving in Yarmouth by 9 p.m., and returning to Maine the following morning at 8 a.m. Be sure to check the schedule online, initial service is limited, with the full schedule starting in late June and continuing until September.  For information and bookings, contact Bay Ferries.
Departure time from Portland is in that witching hour between lunch and dinner, so plan ahead and take advantage of Portland's famed restaurant scene and settle in for a leisurely lunch. Here are a few of our favorites.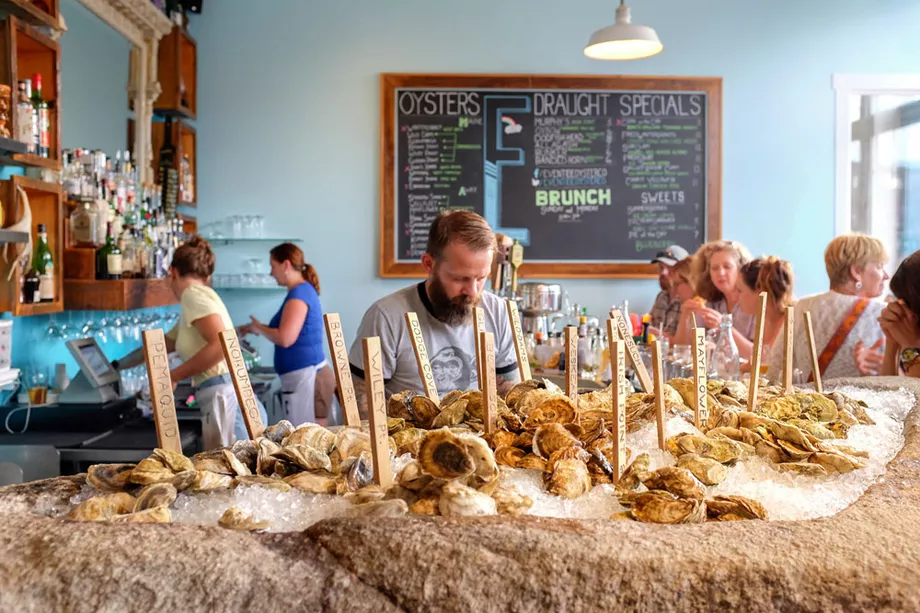 This is a no brainer. When in Portland, you must hit up Eventide. Chefs Andrew Taylor and Mike Wiley just—like, yesterday—won the Best Chef, Northeast 2017 James Beard Award.  Their raw bar features Maine oysters while the menu includes two other Maine essentials: the lobster roll and a New England clam bake.
Pick up a meatloaf panini, fries, and a strawberry shake at Duckfat near the ferry. And while you're at it get the poutine too. Be patient. There's always a wait.
Maine has a long love affair with classic diners and Becky's Diner right on Hobson Wharf is no exception. Although they take breakfast to a new level with the Titanic Omelette — 4 Eggs, Bacon, Ham, Sausage, Cheese, Onions, & Peppers—they really cover the waterfront during lunch and dinner: lobster club, fried Maine clams, chowder, and a variety of fried or broiled local catch. Grab a booth or sit on the patio and watch the harbor.