A recent batch of restaurants, bars, and cafes in Salt Lake make it one of the top 10 "Foodie Cities" in the U.S., according to Wallethub.
Salt Lake's booming dining and nightlife scene continues to wow après skiers and other visitors. And with the number of Best of Awards given to SLC, local and national food writers are equally impressed. With more than a dozen artisanal coffee roasters, close to 20 brew pubs, and a restaurant scene that embraces experimentation and clever reuse of the city's existing architecture, Salt Lake has secured its place as one of the gastronomic stars of the West. The founders of hot, new kid on the block, Table X, explained that their mission is "driven by a deep compassion for community coupled with food, inspired by local ingredients, art, and expression." They're not alone. The city's history of balancing the great outdoors, a thriving performing arts scene, and a vibrant downtown coalesces in its expanding food scene.
Where to Eat in Salt Lake Tonight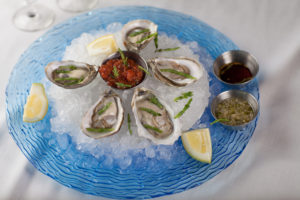 Current Fish & Oyster has been generating buzz since it opened in 2015 and within its first year the seafood emporium was added to OpenTable's 2016 list of 100 Best Restaurants in America. This cool industrial-chic space is located in what was Salt Lake's original Ford auto dealership.
TableX  Recently opened by three chefs—Mike Blocher, Nick Fahs, and David Barboza—in a 1930s produce warehouse cum cheese factory, TableX's minimalist design forms the backdrop to dishes featuring local produce and meats including Morgan Valley steak tartare, Christiansen Farm Berkshire pork and Idaho rainbow trout. An onsite garden will provide in-season produce as well as a stellar view. The buzz is real and Salt Lake Magazine has already declared Table X one of the Best Restaurants of 2017. 
HSL  Executive Chef Briar Handly serves seasonally and locally sourced food ranging from beef cheek burgers to coddled duck eggs at the Salt Lake branch of the Park City favorite. HSL was named The Best New Fine Dining by The Salt Lake Tribune.
Stanza Italian Bistro & Wine Bar Chef Logan Crew offers an array of small plates, fresh pastas, and a wine list that stretches the length of Italy, all served in a vast modern space that won the Best New Atmosphere award from The Salt Lake Tribune.
The Rest A mellow, subterranean speakeasy in the heart of downtown is filled with taxidermy, antiques, and the inventive yet homey cooking of Chef Brendan Cagle, (think honey-glazed beer-can chicken, fried brioche doughnuts, and his riff on poutine). Its upstairs companion Bodega offers not only tacos, beer, and cocktails but the only entrance into The Rest.
Shaken and Stirred: SLC Gets Its Drink On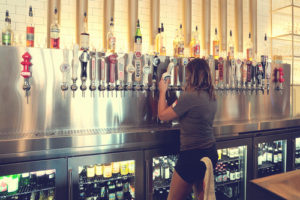 Under Current  The sleek atmosphere of Current extends into its adjacent Club. With a bar program overseen by mixologist Amy Eldredge, Under Current serves up a very grown up atmosphere focused on cocktails, seasonal craft beers, absinthe, and gin. And oysters, of course!
"Whiskey Street" There were so many bars on what is Main Street today, that LDS Leader Brigham Young dubbed it "Whiskey Street." The name was revived for this gastropub with a 72-foot long bar that serves more than 130 whiskeys.
Beer Bar BarX originally opened the year Prohibition was repealed in 1933, and was refurbished in 2010 as SLC's latest cocktail loung. Its success was so great that they had to expand. Say hello to Beer Bar, Salt Lake's version of a late night beer hall, featuring more than 130 beers, as well as small bites and sandwiches made from locally sourced ingredients.
The Morning After: Salt Lake Loves Coffee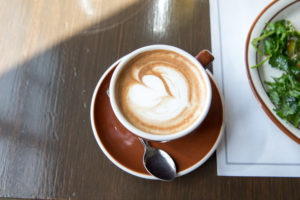 The Hub & Spoke Diner  Restauranteur Scott Evans' fourth dining establishment (following SLC stalwarts Pago, Finca, and East Liberty Tap House) offers Southern-influenced breakfast favorites such as Shrimp and Grits, Kentucky Hot Brown and Sweet Potato Pancakes.
Publik Coffee Roasters  Known for their single-origin roasted coffee and specialty toast made with locally produced breads and jams, the local chain has partnered with two of the owners of Table X to open Publik Kitchen in the 9th and 9th neighborhood, offering a full breakfast and lunch menu (BLT with fried egg, toast with gravy, homemade granola).
Featured photo: UnderCurrent in Salt Lake City. Photograph by Austen Diamond Photography.