There's a veritable alphabet soup of abbreviations that brewers and beer snobs use when discussing their favorite pursuit: ABV, IBU, IPA, and even PBR. But the one that's gaining traction with in-the-know aficionados: SLC. That's right, Salt Lake City has become the capital of "Brewtah" thanks to its lively brewpub scene, which is beloved by locals and fast becoming required for many thirsty out of town visitors. Spread out across the city, from Downtown to Sugarhouse to the Avenues, these brewpubs serving craft beers and hearty fare are perfect after a spring day on the slopes, ideal for a quick bite before a show at The Eccles Theater, and tailor-made for a long session after a day of mountain biking in the adjacent Wasatch Mountains. Here are seven Salt Lake brewpubs that demonstrate that you don't need to be a beer expert to know how to spell FUN.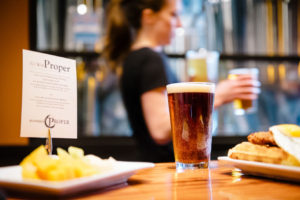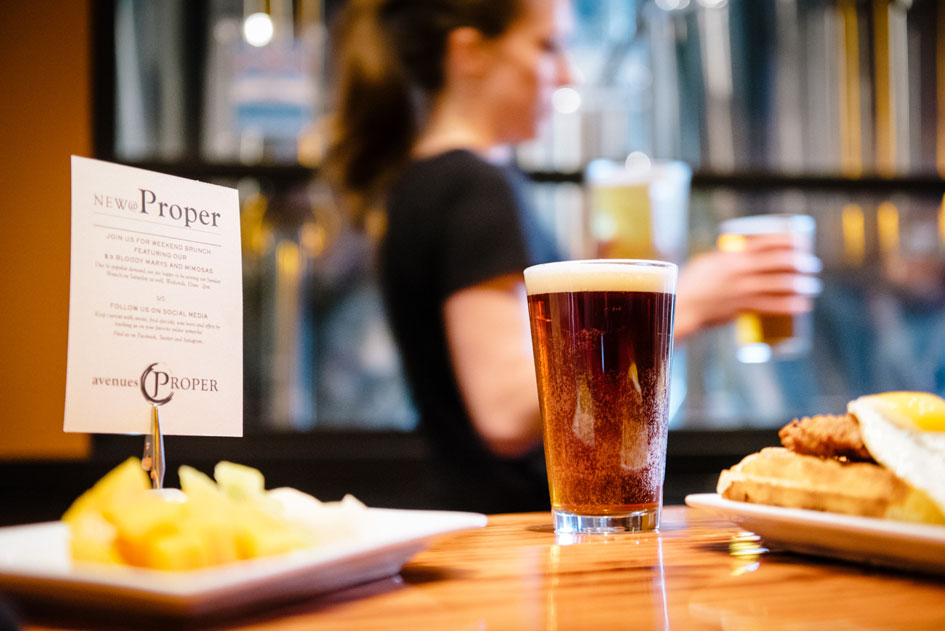 Avenues Proper
Located in the Avenues' neighborhood, natch, Avenues Proper has the feel of a local hangout and offers an extensive comfort-food menu for lunch, dinner, and brunch. Think General Tso's pork belly tacos, a meatloaf sandwich, or chicken and waffles paired with an array of brews that have become local favorites, such as Brumblin' Brown, Faultline IPA, and Patersbier.
Desert Edge Brewery
Located in historic Trolley Square, Desert Edge was serving beer back in 1972 and got into craft brewing in 1995. Their signature beers are 4% ABV, meaning they've been producing "session" beers long before it was cool, and classics such as Happy Valley Hefeweizen, Utah Pale Ale, and Cluster Fuggle have a strong core of devotees. The lunch and dinner menu is broad and casual, think salads, sandwiches, and Mexican fare.
Epic Brewing Company
Epic is for serious high-octane beer lovers, with brews like Double Barrel Big Bad Baptist (say that three times fast after two pints), Smoked & Oaked Belgian Style Ale, and Hopulent IPA. The welcome four-ounce tasters are for those who want to tread gingerly. For eats, head into the new Black Sheep at Epic Brewing, which is a cut or two above standard pub fare, offering a small but ambitious lunch and dinner menu featuring burgers, Mexican-inspired dishes, and Native American influenced fare like Brisket Navajo Tacos.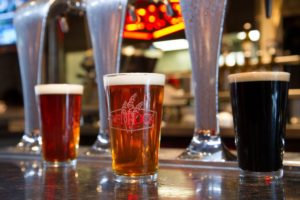 Red Rock Brewery
A downtown fixture since 1994, Red Rock Brewery was named "Brew Pub of the Year" by Brewpub Magazine and "Large Brewpub of the Year" at the Great American Beer Festival. They offer lunch, dinner, and late-night bar snacks seven days a week, alongside such brews as Drioma Russian Imperial Stout, Frohlich Pils German Style Pilsner, and Grand Bavaria German Style Weiss, beers that have earned more than 100 regional and national awards.
Squatters Pub Brewery
Founded in 1989 and housed inside a historic hotel, Squatters has long been a go-to destination for beer lovers and those seeking a fantastic casual dinner downtown. Their Jambalaya, Black & Blue Burger, and Blackened Tilapia Salad are tried and true favorites, especially when paired with a Full Suspension Pale Ale, an Outer Darkness Russian Imperial Stout, or a refreshing American Wheat Hefeweizen. The pub is always lively, so you can expect a wait at dinnertime, which of course gives you more time to enjoy their brews.
Uinta Brewing Company's Brewhouse Pub
Whether it's a Baba Black Lager, a Piggyback Peach IPA, or their signature Cutthroat Pale Ale, Uinta has made a big name for themselves in the world of craft beers in Utah. Brewing since 1993, the pub serves a small menu of apps, sandwiches, and burgers, ideal for those afternoons when après ski beer tasting slides into dinner. Their General Store offers all of their beers to go, including limited releases.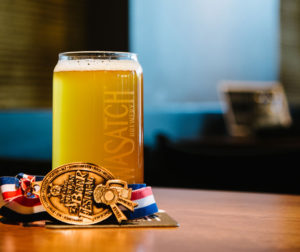 Wasatch Brew Pub
When Greg Schirf opened Utah's first brewery since Prohibition—Wasatch Brewery, in 1986—it was a game changer for Salt Lake. Two years later, he took it further, proposing a bill to the Utah Legislature that resulted in the opening of the state's first brewpub. Today, the Wasatch Brew Pub in the Sugarhouse neighborhood is where to find the beers with the cheekiest names in the state, such as Polygamy Porter, Provo Girl, and Evolution Amber Ale. Wasatch also offers a large menu of great pub fare, including burgers and pizzas.