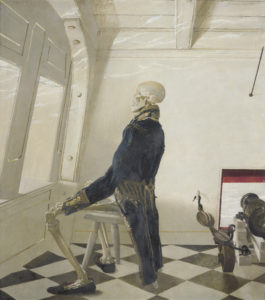 To mark the centennial of the birth of painter Andrew Wyeth, the Farnsworth Art Museum in Rockland, Maine, continues its landmark series of five exhibitions this spring. "Andrew Wyeth at 100" began earlier this year with two exhibitions at the Wyeth Study Center galleries and expands with three new shows this weekend throughout the museum's Wyeth Center, as well as its Hadlock galleries. Over 100 of his works will be featured including "Dr. Syn," in the Wyeth Study Center Gallery through September 9, and "Maine Drawings" in the museum's Hadlock Gallery through December 31. Both shows feature rarely seen and privately held works. This Saturday, April 15, the Farnsworth will continue the series with "Maine Watercolors-1938–2008," and "The Olson House: Photographers' Muse," both at the Wyeth Center. The final show in this series will feature the painting "Her Room" and associated studies, which will open on September 20, 2017.
The Farnsworth has had a long relationship with Wyeth and has shown his works every year since 1964. In 1998 the Wyeth Center opened as a showcase of three generations of Wyeths: Andrew, his father, and his son, Jamie. And in 2002 the museum added the Wyeth Study Center. It also operates the Olson House in Cushing, where Wyeth made one of his most famous works, "Christina's World."
For more information about the exhibition visit the museum's website at farnsworthmuseum.org. And to learn about Rockland and the surrounding area check out visitmaine.com.
Andrew Wyeth at 100