Olympia Hotel Management (OHM) has announced that it has been selected to operate a new hotel on the campus of the University of Maine (UMaine) in Orono. The groundbreaking ceremony was held on October 1, 2022, and the hotel is expected to be completed in early 2024.
The property is being developed by Radnor Property Group LLC, a real estate development company with a strong presence in higher education public-private partnership (P3) projects in the northeast and Harrison Street, one of the leading investment management firms exclusively focused on alternative real assets.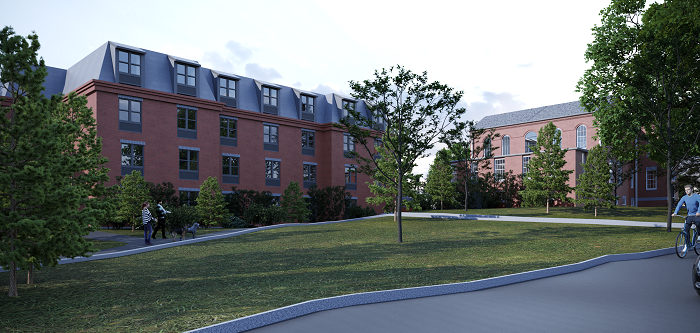 Two historic University buildings, Coburn Hall and Holmes Hall are being converted to create the new campus hotel. Both buildings were constructed in 1888 but have not been used by the university in 15 years. Holmes Hall was designed as an agricultural experiment station, while Coburn Hall housed a natural history museum, library, classrooms, and administrative offices. Both buildings were designed in the Romanesque Revival style by architect Frank E. Kidder, who was best known for his 1885 publication of "The Architects' and Builders' Pocket-book."
The buildings plus a newly constructed addition will comprise a boutique hotel with 95 guest rooms and a bistro café. Located on Munson Road at the center of campus, close to the bookstore and library, the new property will provide UMaine with an upscale hotel for short and long-term stay options to support the university's hospitality needs, collaboration efforts, alumni outreach, athletic teams, and new student recruitment. The project is expected to be completed in 2024 and the cost is anticipated to be $28 million.
Olympia, based in Portland, ME, was chosen because of its experience with a diverse collection of campus hotel projects.  "This is a unique and complex endeavor," notes Nick Allen of Radnor Property Group.  "We are excited to have an operating partner with depth in both independent and campus-based hotels. Olympia's understanding of this marketplace and history with the University is a real benefit to the project."  Olympia manages independent properties such as The Alfond Inn at Rollins, The Inn at Swarthmore, and The Hotel at Oberlin, boutique-style hotels conceived and designed in collaboration with their respective colleges. Olympia's portfolio also includes Kent State University Hotel & Conference Center and the Best Western University Hotel for St. Lawrence University.
"The University of Maine is looking forward to working with Olympia in this P3 project at the state's land, sea and space grant university," says University of Maine President Joan Ferrini-Mundy. "We will tap the experience and vision of this Maine-based company to provide a quality UMaine experience in our historically significant campus hotel facilities."
As part of the P3 plan, the project hopes to offer job training and internship programs to students in collaboration with the University of Maine to help prepare and develop young professionals in hospitality. Maine is home to a thriving tourism industry in which one of six jobs in the state is part of tourism or hospitality.  "Our company story began in this region, and we are extremely excited to be working with the University of Maine, Radnor, and Harrison Street on this transformative project," said John Schultzel, Chief Growth Officer for Olympia. "Campus hospitality is an important focus for Olympia, so the fit is really remarkable."
The redevelopment plan will meet the National Park Service criteria for becoming a Certified Historic Structure. Archetype Architects is designing the project and Wright-Ryan Construction will serve as the general contractor.