The New York Botanical Garden's Newly Expanded Outdoor Color-and-Light Experience NYBG GLOW Returns for Its Second Year on Select Nights This Holiday Season
Visitors Can Explore the Botanical Garden's Festively Illuminated Landscape and Enjoy Food, Beverages, Music, and More at NYBG GLOW
As day turns to night on select dates this holiday season, families and friends can start a new tradition at The New York Botanical Garden (NYBG), exploring its festively illuminated landscape and enjoying food, beverages, music, and ice carving at the expanded NYBG GLOW. The outdoor color-and-light experience will take place from 5 to 10 p.m. on select nights through Saturday, January 22, 2022.
Returning for its second year, NYBG GLOW will offer an expanded 1.5 miles of displays to wander through and delight in. The beauty of the Garden's landmark landscape and historic buildings will be breathtakingly aglow, and NYBG's iconic sights and buildings will become dramatic, glittering canvases with the Enid A. Haupt Conservatory and LuEsther T. Mertz Library Building as the centerpieces. Colorfully lit paths and trees, thousands of dazzling LED lights, illuminated plant stories, and whimsical, picture-perfect installations reflect the surrounding gardens and collections, creating a spectacle not to be missed.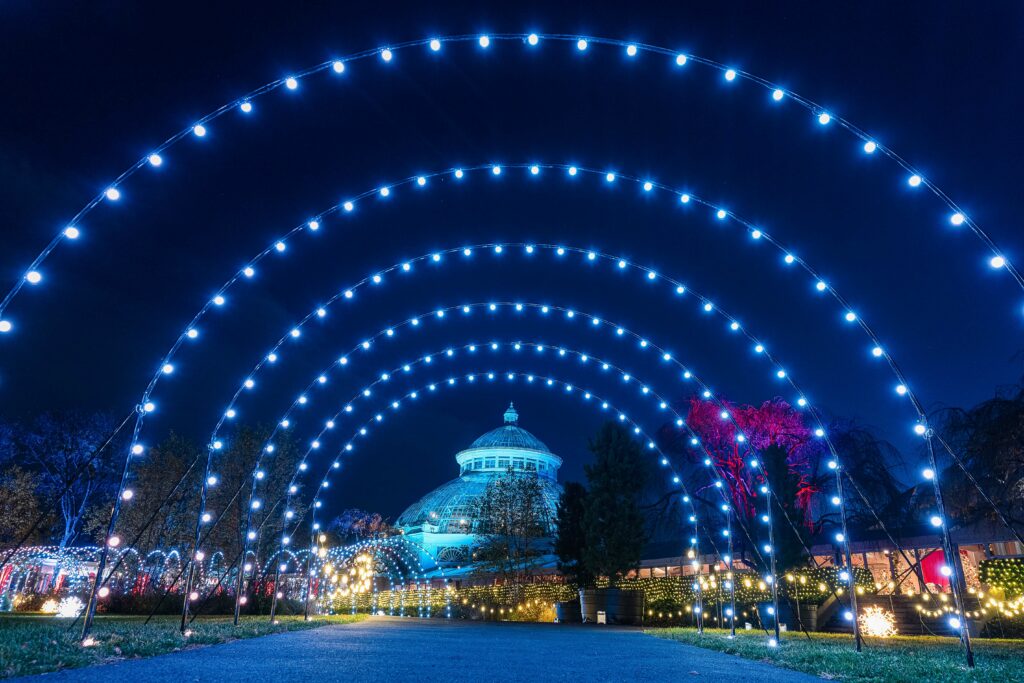 Dazzling lights frame the Enid A. Haupt Conservatory. Photo NYBG.
NYBG GLOW will take place on the following dates: Thursday, December 2; Friday, December 3; Saturday, December 4; Thursday, December 9; Saturday, December 11; Thursday, December 16; Friday, December 17; Saturday, December 18; Thursday, December 23; Sunday, December 26; Monday, December 27; Tuesday, December 28; Wednesday, December 29; and Thursday, December 30, 2021; Saturday, January 1; Thursday, January 6; Friday, January 7; Saturday, January 8; Friday, January 14; Saturday, January 15; Friday, January 21; and Saturday, January 22, 2022.
In addition to the Haupt Conservatory and Mertz Library Building, locations that will be featured during NYBG GLOW include the Lillian Goldman Fountain of Life, Katsura Triangle on Garden Way, the Leon Levy Visitor Center, the Conservatory Lawn, the Conservatory Courtyards, the Home Gardening Center, Perennial Garden Way, and Daylily/Daffodil Walk.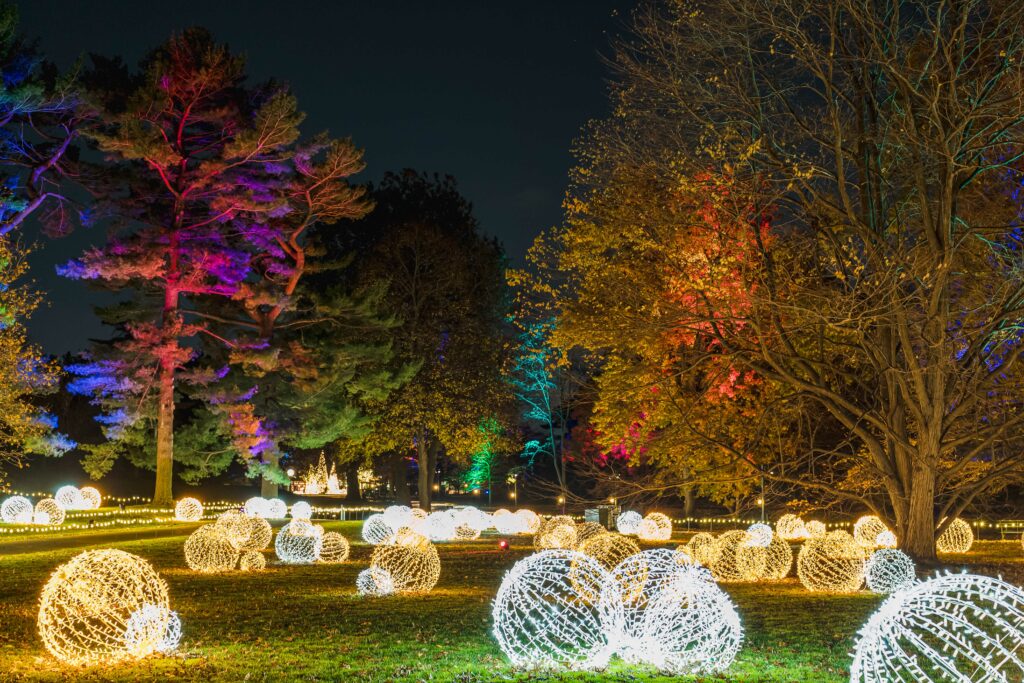 Pictue-perfect installations and colorfully lit trees highlight the beauty of NYBG's landscape and gardens. Photo NYBG.
During NYBG GLOW, beverages and light fare will be available at one of NYBG's outdoor bars or the Bronx Night Market Holiday Pop-Up, which will feature a rotating selection of vendors, and live outdoor entertainment will add to the seasonal atmosphere. From 5 to 9:30 p.m., Steel Pan Holiday will give visitors the opportunity to hear the joyful sounds of the steel pan drum as they explore NYBG GLOW. Performing will be the ensemble Khuentertainment, winners of the International Pan Ramajay Competition 2020. Led by Khuent Rose, the ensemble is part of a generation of young steel pan innovators charting imaginative performances while respecting this distinctive musical tradition. From 5:30 to 9:30 p.m., Artistic Ice Sculpting adds to the live entertainment as ice carvers from Okamoto Studio NYC transform ordinary blocks of ice into wintry works of art. The studio, an artists collective known for producing artful installations and performances using ice, is led by Shintaro Okamoto, who views the ephemeral quality of ice as an apt metaphor for the here and now.
In addition to NYBG GLOW, the Holiday Train Show®—a favorite holiday tradition—is back at the Botanical Garden for its 30th year. Visitors will marvel as model trains zip through displays of NYBG's collection of more than 190 replicas of New York landmarks, which have been artistically crafted out of natural materials such as leaves, seeds, twigs, bark, acorn caps, and pine cone scales. On view now, the Holiday Train Show runs through Sunday, January 23, 2022. This holiday season, visitors to NYBG GLOW will be able to round out their experience with an after-dark visit to the Holiday Train Show by purchasing a special combination ticket. It will be the perfect night out this holiday season.
For more information and to purchase tickets, visit our website at nybg.org