Getting a jump on holiday shopping is a prime reason to visit Provincetown during these last weeks of 2021. The town is filled with independently-owned boutiques that offer handcrafted wares and ethically sourced items. Think home décor from Acadia and John Derian, fashions from Boichick and Coffey Men, and politically-messaged gifts from Adam's Nest and Womencrafts. Add to that the annual Holiday Market at The Canteen, which is open every weekend from Thanksgiving to New Year's with upwards of 25 local vendors.  A gallery stroll is also in order, as many of the 50-something galleries here in the oldest continuous arts colony in the US will be open, along with the Provincetown Art Association and Museum (PAAM).
HOLLY FOLLY & FIRST LIGHT
The holidays really hit their stride with Holly Folly, which runs all weekend from December 3 to December 5. It features the Holly Folly Shop Hop and Stroll, where shoppers are eligible to win fantastic prize baskets for shopping with participating stores. There's also the Jingle Bell Run and Champagne Brunch, a Santa run in bathing suits. Not to mention dance parties, sing-alongs, and drag bingo. The festive spirit continues with the Cape Cod Chorale holiday concerts in the Town Hall on December 10 at 7:00 and December 11 at 5:00.
At the end of December, revelers can usher in the New Year in spectacular fashion at First Light, which runs from December 30, 2021 to January 2, 2022. There are holiday parties galore and  highlights such as the Light Bright Bike Ride on New Year's Eve. Then, on New Year's Day, some brave souls will make the annual Polar Bear Plunge  at noon. The grand finale is the amazing annual fireworks celebration on New Year's Day at dusk, most easily watched from MacMillan Pier.
STAY & DINE
When it comes to lodging during the festive season, it's smart to book now, at one of the nearly two dozen charming inns and guesthouses that remain open during the holidays. They include such properties as Pilgrim House and Aerie House & Beach Club, as well as the Anchor Inn Beach House, Revere Guesthouse and the historic Land's End Inn.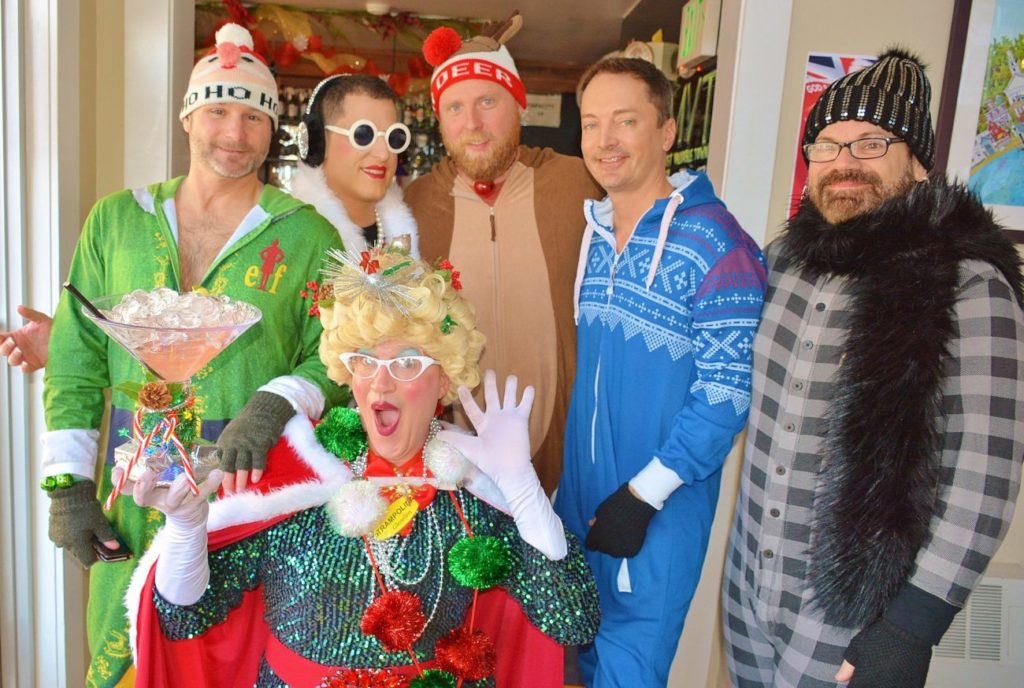 There are also a number of restaurants that remain open and welcoming, from breakfast spots like Liz's Café or Anybody's Bar. Lunch is served at Far Land Provision, East End Market, and Café Heaven. A festive dinner at Fanizzi's, Napi's or The Mews Restaurant & Café is ideal at this time when fall become early winter. Afterwards, shows and entertainment continue at Pilgrim House and The Crown & Anchor. There's late night merriment at Ship Wreck at the Brass Key, Governor Bradford, or the Little Bar at the A-House.
It all adds up to an amazing and festive way to welcome 2022 in one of the most tinselly towns on the planet.
For more on the holiday season in Provincetown, visit Provincetown Tourism.