The Alfond Inn at Rollins—recent recipient of Travel + Leisure's World's Best Hotels 2017—offers not only world-class hospitality, but also a deep dive into the world of contemporary art, showcasing an extraordinary trove of paintings, photographs, sculptures, and mixed-media works of art from The Alfond Collection of Contemporary Art.
The hotel, which is owned by Rollins College in Winter Park, Florida, curates artwork given by alumni Barbara and Ted Alfond to the College's Cornell Fine Arts Museum. It's much more than just an "art hotel," in fact, it's the only hotel in the United States that serves as the extension of an art museum. The 350-plus piece collection has just undergone its annual rotation under the direction of Amy Galpin, Curator of the Cornell Fine Arts Museum at Rollins College (CFAM) and independent curator Abigail Ross Goodman, featuring new works by Alex Katz, Tala Madani, Caitlin Keogh, Kiki Kogelnik, Yoan Capote, Pedro Reyes, Camile Henrot, and Sadie Barnette, among others.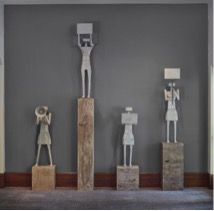 "The work on view at The Alfond Inn at Rollins inspires critical thinking about art created in the last fifty years," says Galpin, who stresses that this is fresh and often provocative work that's "very current in terms of what's happening in contemporary art." There's a vanguard quality to some of the pieces on display at the hotel, touching upon social history, civic mindedness, and international affairs, which the curators say is very much by design. "I think the uniqueness of the Alfond Collection lies in the fact that this is a teaching collection," says Goodman. "There's an emphasis and focus on both emerging artists and established artists who are coming back into prominence, such as Kiki Kolgenik. We've set out to be a leader in giving them a platform."
In September, CFAM unveils its fall exhibition,"Time as Landscape: Inquiries of Art and Science," from September 29–December 31, 2017. Curated by Galpin and Goodman, it will feature several Alfond gifts to the Cornell Fine Arts Museum, including recent acquisitions of works by Julie Mehretu and Richard Mosse, as well as pieces previously exhibited at the hotel by Darren Almond, Tom LaDuke, and Sara VanDerBeek. A major new commission by Tomás Saraceno will be installed in the dome of the conservatory at The Alfond Inn at Rollins as part of the exhibition.
The hotel has created an extraordinary way for guests to immerse themselves in their art collection with their "A Night at the Museum" package. Spend two nights at the Alfond and experience all that Winter Park has to offer including museum passes to the Cornell Fine Arts Museum, The Charles Hosmer Morse Museum of American Art, and the Albin Polasek Museum & Sculpture Garden, and two art-inspired cocktails in the hotel's lounge.