Chicago's skyline is about to change. The Olympia Companies and SMART Hotels are bringing SOPHY, a luxury boutique hotel, to the city's Hyde Park neighborhood.
The 98-room hotel will be located at the corner of 53rd Street and Dorchester Avenue on Chicago's South Side. According to Mike Zimmerman, vice president of development for The Olympia Companies, "The hotel is firmly rooted in Hyde Park's history dating back to the turn of the century, and going forward will play a vital role in one of Chicago's legendary neighborhoods," Local luminaries such as singer Mahalia Jackson, novelist Saul Bellow, and University of Chicago Scientist Enrico Fermi served as inspiration for the hotel's interior design by Stonehill & Taylor Architects of New York. In addition, SOPHY will feature artwork from contemporary Chicago artists and design elements inspired by the 1893 World's Columbian Exposition, including barn doors on the private dining space that use circular elements to suggest the world's first Ferris Wheel.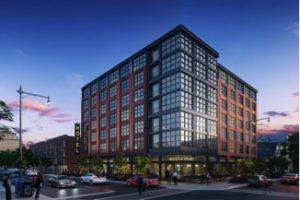 SMART Hotels LLC develops eco-friendly campus hotels and mixed-use projects at prominent universities and medical centers around the country, whereas The Olympia Companies is an innovative leader in creating a new breed of sustainable, environmental, and philanthropic boutique hotels, such as The Hotel at Oberlin in Oberlin, Ohio; and The Alfond Inn at Rollins in Winter Park, Florida—which was singled out as one of The Top 100 Hotels in the World by the readers of Travel + Leisure. So it comes as no surprise that the name of their next joint venture would be rooted in the Greek word "sophia," meaning wisdom and dedication to excellence through the pursuit of knowledge. The name was inspired by the rich legacy of intellectual, artistic, and cultural innovation that is part of the fabric of the University of Chicago and Hyde Park. "SOPHY aligns with SMART's and Olympia's expertise in developing and managing independent, award-winning boutique properties that evoke a strong sense of place and become an integral part of the community," explains Zimmerman.
SOPHY, which is scheduled to open in the summer of 2018, is designed as a four-diamond luxury property and engineered to achieve LEED Silver certification. It will feature a bar, a restaurant with outdoor dining, and a fitness center, and will be a preferred hotel of the University of Chicago. Its location is close to the University's campus, the University of Chicago Medical Center, and the site of the future Barack Obama Presidential Library.