The Notch Grille, the full-service and family-centric restaurant at The Glen House in New Hamsphire, features North Country comfort foods. It also offers breathtaking views of Mount Washington. The restaurant sources from local farms, breweries, and distilleries, and even serves its own private label vodka made at Tamworth Distilling. The bar, lauded as New Hampshire's Most Beautiful Bar by Architectural Digest, is a great place to sip a glass of wine or a microbrew and enjoy a few shared plates.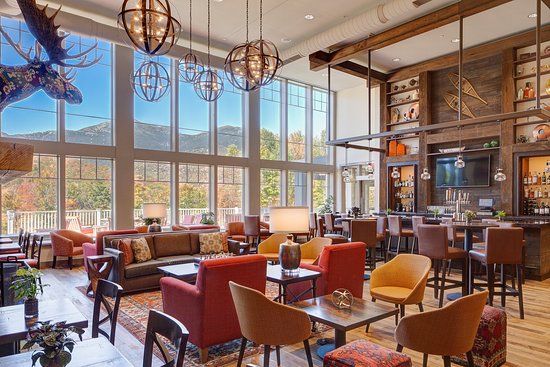 The Notch Grille is open daily and serves breakfast, lunch, and dinner. Breakfast can be Apple Betty French Toast, The Auto Road Omelet or Pinkham Corned Beef Hash. The lunch menu focuses on warming favorites after a day in the outdoors with dishes such as a Pulled Pork Sandwich or a Black Bean Burger or the soup of the day. Dinner is when to try Seared Scallops with butternut squash risotto, parmesan, and Brussel sprouts or Lobster Mac and Cheese, or go for Stuffed Acorn Squash or the Beef Short Ribs.
Visit The Notch Grille for reservations.