The legendary drive in New England is the steep and breathtaking climb up the Mt. Washington Auto Road in New Hampshire. The road opened in August 1861 to stagecoaches, marking summer 2021 as the 160th year travelers have driven up 4,618 feet from the base, reaching more than a mile into the sky, the highest point in the Northeast at an altitude of 6,288 feet.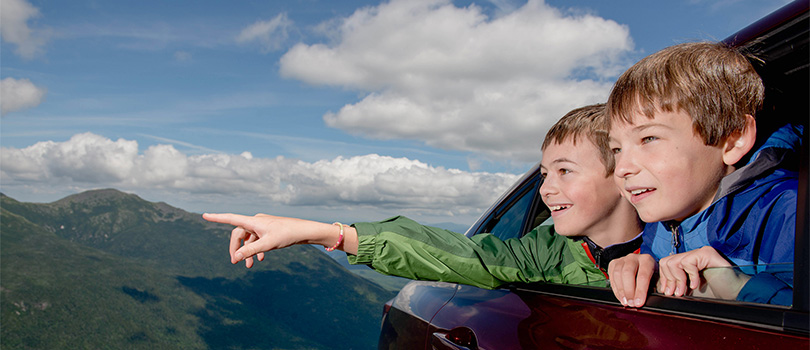 The Mt. Washington Auto Road is America's oldest man-made attraction. In a summer that promises to be the ultimate season of road trips, it's the most famous mountain drive east of the Rockies.  The views to the Atlantic Ocean and into Maine, Vermont, Massachusetts, New York and even Canada are amazing. Drivers earn the right to place the legendary "This Car Climbed Mt. Washington" bumper sticker on their car after the trip.
The Glen House, the award-winning hotel in the heart of New Hampshire's White Mountains, sits at the base of the Mt. Washington Auto Road, within the White Mountain National Forest, and is the perfect base camp for any drive. The hotel is celebrating this all-American road trip with The Auto Road Weekender package.
The Auto Road to the Sky package includes:
Two-nights in a Standard Room.
Auto Road passes for one vehicle and two adults.
One keepsake cooler with two boxed lunches.
Two adult souvenir T-shirts.
Two adult 4-hour bike rentals from the Great Glen Trails Outdoor Center.
Starting rate from $TK per night, based on double occupancy for a two-night stay.
Subject to availability.
Valid through TK, 2021.
Contact The Glen House for reservations.
The 68-room dog-friendly* boutique property at the base of Mt. Washington is steps from the  Great Glen Trails Outdoor Center, which offers 40 km of biking, walking, and hiking trails. After a ride up Mt. Washington, guests can take in the splendor of the White Mountains from the deck of The Glen House. The Notch Grille offers New Hampshire brews from Moat Mountain Brewing Company and Tuckerman Brewing Company and serves comfort food such as short rib tacos, the Mt. Washington burger, a classic Reuben and a Mediterranean platter.
Spring 2021 Covid-19 Protocols
The Glen House providing a safe environment for guests and team members. While offering the same warm hospitality, guests will notice changes and new protocols designed to keep everyone safe. Full details are available on the website at https://theglenhouse.com/welcome-back. Upon arrival at The Glen House, all guests will be required to provide a valid ID from their home state.
*Pet Policy – A nightly pet fee of $20 will be charged, which includes the use of a doggie bed and water bowl, as well as treats. Based on supply, which is first-come, first-served.