Pride Month kicks off this weekend in Provincetown, the colorful, exuberant, and occasionally outrageous queer capital of the United States. The 5th annual Provincetown Pride focuses on LGBTQ+ awareness, empowerment, and diversity, with a bevy of parties, drag shows and dancing.
For early bird arrivals on Thursday June 2, there's Taproom Talk @ The Fine Arts Work Center – Right on Q: Identity & Understanding Around the Word 'Queer' as well as the Underwear Party @ Red Room – Pride Edition.
Revelers traveling from Boston on Friday June 3rd can hop a festive ferry with the Special Pride-Edition Crossing on Bay State Cruise Company for a day packed with activities, starting with the Dedication of Rainbow Crosswalk and the Pride Proclamation with the Gilbert Baker Foundation. Later on, it's time for Queer AF Bingo with Mackenzie & Austin at the Crown & Anchor and then the 'Pride Queen' Debut Party. The evening's highlight is Provincetown Follies – Pride Edition @ The Crown & Anchor. Dubbed" The Gayest Show in Town," it's a cabaret with a bit of Vegas, Follies Bergere and Moulin Rouge. Then move on to the Pride Kickoff Party @ Red Room at 10pm.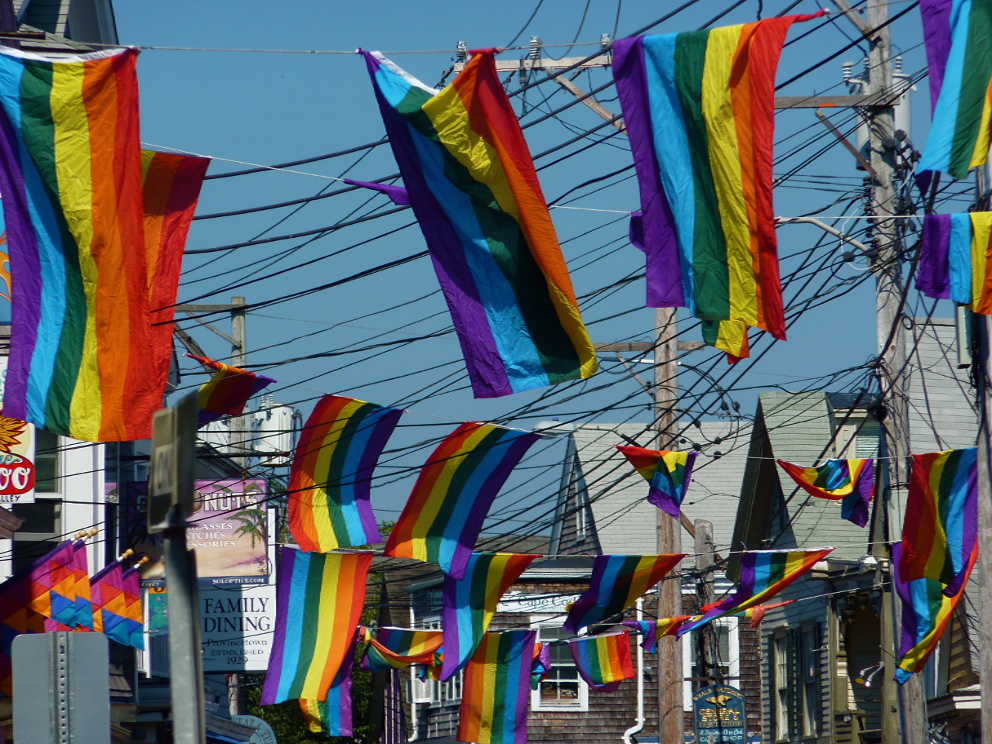 Saturday June 4th starts with the Pride Drag Brunch @ Pilgrim House, Provincetown's Longest-Running Drag Brunch. For those in need of beaty boost, it's time to head over to 'Beat' Booth – Makeup & Flair Station by House of La Rue. Dog lovers can check out the Yappy Hour – Hosted by Puppy Play. Later in the day, it will be time to attend the Pride Rally at Town Hall & 'Sashay' to Tea. There's a Teaside Garden Party @ Somerset House Inn, a Waterfront Event @ East End Books – "Furnace Creek" by Joe Boone, and the Pride Queer Comedy Showcase Presented by the PBG & Fruit Basket with queer stand-up comics Franqi French, Jaye McBride, Sam Morrison, Kristen Becker & Anddy Egan-Thorpe. True partygoers will save some energy for the Official Pride Dance Party @ A-House at Atlantic House, "the mothership of all Provincetown dance floors."
On Sunday, close out Provincetown's 5th Annual Pride Weekend with Feet Over Front Street 5K – Pride Run & Walk, a fun event with the LGBTQ+ community. Then head to the sun and sand spectacular, the Full Spectrum Beach Party at the Crown & Anchor or make tracks to Dyke Dock @ Provincetown Brewing Co., Provincetown Brewing Co's summer girl-party.

June also marks the start of the new LGBTQ+ History Trolley Tours of Provincetown with Anne Hutchinson. How did Provincetown evolve into the queer-friendly enclave it is today? Where was the first gay bar in town? Where did icons like Grace Jones, Divine and Tennessee Williams spend their time here in town? This new hour-long tour has "all the answers you need to get your gay history straight." Tours run every Friday, Saturday and Sunday in June, and on Sunday, Monday, Thursday and Friday in July and August. Tours can also be booked independently.
As if all of this isn't enough, Tea Dance at The Boatslip is back with resident DJ Maryalice, who has been spinning the tunes for nearly three decades. Tea Dance happens from 4pm to 7pm every afternoon through Labor Day.
Getting to Provincetown from Boston and New York City just got a lot faster and easier this summer with the advent of Tailwind, which is offering seaplane service from Boston's Fan Pier Marina to Provincetown, promising a 35-minute trip. There is also new service from Manhattan's SkyPort Marina on the East River to Provincetown via Fan Pier.
For more on lodging, restaurants, shopping, nightlife and activities, go to Provincetown Tourism.