There are certain Maine summer traditions that cannot be skipped: berry picking, the first dip in the ocean, and, of course, the county fair. The mix of agricultural traditions, midway thrills, and culinary gluttony make the county fair an event that is sometimes hard for urban dwellers to fully embrace. But the county fairs of Maine are a breed of their own. The Common Ground Fair and theFryeburg Fair are just two examples of multi-day events that showcase the rural and agricultural traditions of Maine.
The Common Ground County Fair, affiliated with the Maine Organic Farmers and Gardeners Association, embodies the resiliency of Mainers and their ingenious realization of life in a rural state. Started in 1977, during the back-to-the-land movement, it has become a beacon for forward-thinking organic farming techniques and a showcase for rural crafts, attracting upwards of 60,000 visitors every year. There are demos of spinning and carding wool, stonework, tree identification and raising animals. Anyone curious about sustainable beekeeping or how to purchase a used tractor will learn a great deal at the Common Ground Fair. From September 22–24, in Unity.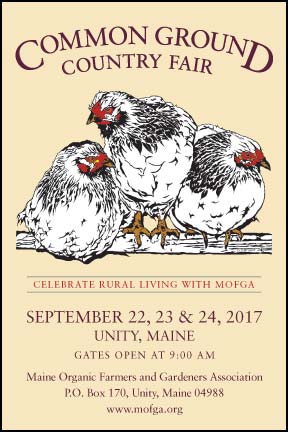 On the far west side of the state, The Fryeburg Fair is Maine's largest fair, attracting more than 300,000 visitors during its eight-day run, October 1–8. A classic county fair, Fryeburg offers team-pulling, a skillet throw competition (yes, it's just what you think it is), 4H awards, and the ever popular pig scramble. A full arcade with classic carnival rides, harness racing, a sheep dog trial, and tractor pull are among the highlights of this fair that dates back to 1851.  This year marks the 50th Anniversary of the Woodsmen's Field Day at Fryeburg, the largest spectator woodsmen event in North America. Contestants come from across the U.S. and Canada to compete in over 34 wood-skills events such as log rolling, axe throwing, standing block chop, tree felling, skidder driving, and log loading.