The return of Chihuly at NYBG has been one of the highlights of Summer 2017 in New York City. If you have haven't been to the New York Botanical Garden to catch the show yet, the Garden has created a weekend-long event that will surely get you out to the Bronx, August 12–13.
Spend the day exploring the beauty of Chihuly's glass sculptures and see live glass fire working demonstrations. Relax to live music on the Conservatory Lawn, or listen to a variety of musicians throughout the garden.  Stay cool with treats and refreshments available at the café and restaurant. Here's a list of events for Chillin' with Chilhy at NYBG.
Live Acoustic Musicians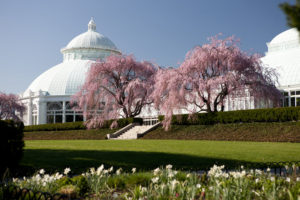 Listen to various musicians as you explore Chihuly at NYBG.
Earl Brooks Jr. plays the steel drums on Saturday and Mustafa Alexander brings his distinctive style of drumming on Sunday, August 13. Keve Wilson, a fellow at the Tanglewood Music Center, brings her solo oboe performances to NYBG on Sunday. Tony Kovatch will perform selections from his solo accordion repertoire of jazz, French, Italian, polka, and eastern European music both days; and Spanish guitar maestro, David Galvez, performs throughout the weekend. Rounding out the list of artists is cellist Laura Bontrager, Saturday, August 12 only, and saxophonist Keith Marreth all weekend. Performances are between and 1 and 4 p.m. throughout the exhibition.
The music performances at Chillin' with Chihuly are just one part of the creative programming NYBG has created this summer. You can still catch the last night of their innovative jazz series created in collaboration with Catskill Jazz Factory and Absolutely Live Entertainment, August 18, 6–10:30 p.m. Bring your blankets and enjoy the best seat in the house on the scenic Conservatory Lawn.
Flame Work Demonstrations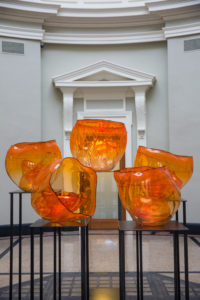 Get a real appreciation for the artistry and skill Chihuly's works exhibit with a demonstration by artists from UrbanGlass—an art studio facility in Brooklyn where professional artists and designers create objects and artworks using glass—showing the fascinating art of melting and manipulating hot glass using a torch and flame. The UrbanGlass studios are closed to the public, so NYBG is offering a rare opportunity to see these artists at work. They'll be presenting their artistry throughout the weekend, from 1–4 p.m., at the Conservatory Plaza and Visitor Center.
Getting to Chihuly at NYBG
MetroNorth offers a Botanical Garden Getaway package that includes an All-Garden Pass, allowing full access to the garden grounds as well as special exhibitions, the Enid A. Haupt Conservatory, Rock Garden, Garden Highlights Tram Tour, and the Everett Children's Adventure Garden. Upon arrival, you will receive a welcome packet with a custom itinerary and special offers at Shop in the Garden and the Garden's cafes.