Olympia Hotel Management (OHM) is proud to announce that Hyatt Place Harrisonburg has opened. The newest and most contemporary hotel in Harrisonburg, Virginia, the property is conveniently located near Harrisonburg  Crossing and the campus of James Madison University (JMU), a public research university.
Known as "The Friendly City," Harrisonburg is a visitor gateway to nearby Shenandoah National Park and the park's scenic Skyline Drive. Noted for its local restaurants, entertainment, spectacular hikes and historic battlefields, as well as museums and nearby wineries, Harrisonburg was rated both one of "America's Best College Towns" and a "Favorite Town in America" by Travel + Leisure.
The first Hyatt-branded hotel in the local market, Hyatt Place Harrisonburg features 119 guestrooms and suites, with high-floor rooms offering spectacular views of the Blue Ridge Mountains. Developed by Harman Realty, Inc. of Harrisonburg, Virginia, the hotel's general contractor was Harman Construction, Inc.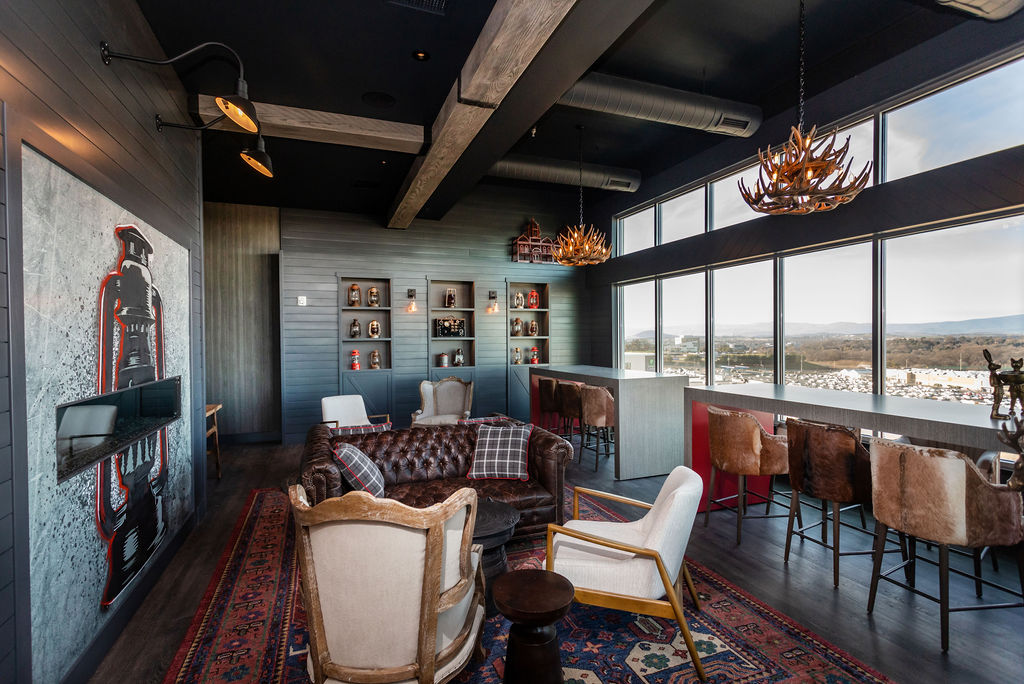 The hotel's premier dining venue is the Ridge Room Rooftop Tavern, serving regionally-sourced food and drink, with 80 seats in the indoor/outdoor space that offer panoramic views of the Blue Ridge Mountains. Helmed by chef Dan Evans, it's a remarkable space that promises to become a dynamic gathering space for the city.
This is something of a homecoming for Chef Evans, who grew up in Harrisonburg and has been working in restaurants since he was 16. His career took off under award-winning chef Jeremy Sewall at Island Creek Oyster Bar and Row 34 in Boston. He was later sous chef at Lavagna in Washington D.C. and returned to Virginia to reopen the historic Highland Inn in Monterey before stints at Staunton's Zynodoa and Blu Point Seafood Company, where he rose to the position of Executive Chef.
"It's such a pleasure to create a menu that's fun, authentically Blue Ridge, and can serve as a match to the stunning views and rustic chic atmosphere at the Ridge Room," says Chef Evans. "As a Chef raised in these parts, it's my greatest pride to showcase the best local producers and growers that Virginia has to offer."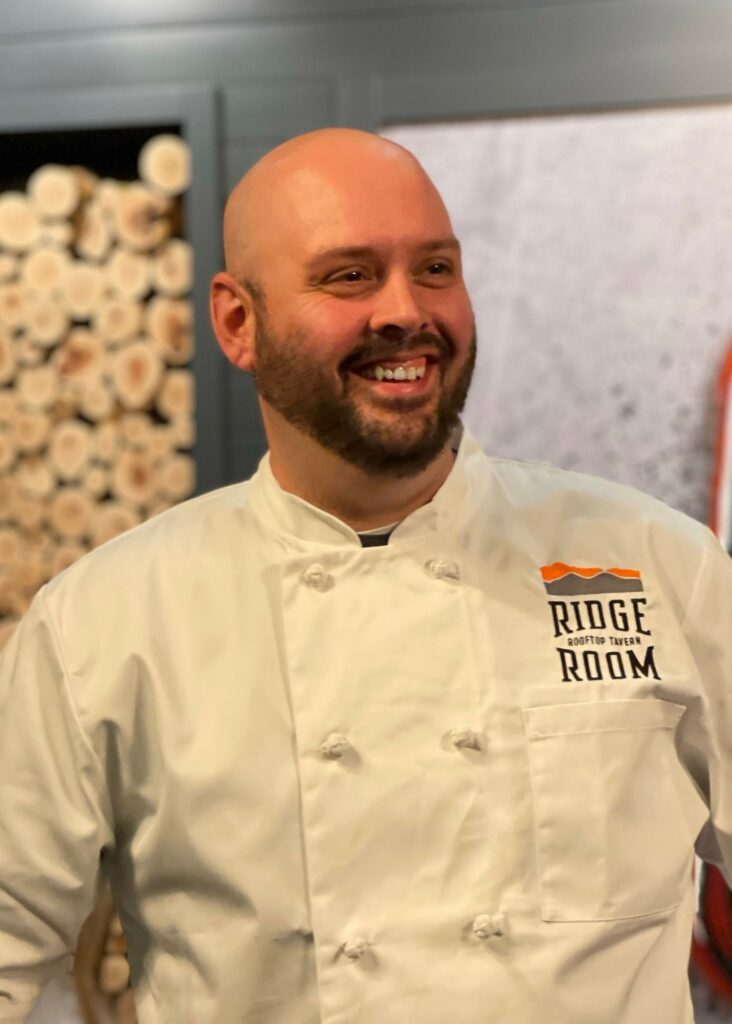 Chef Evans has indeed done just that, assembling an outstanding and remarkably thorough list of local purveyors, brewers and distillers as he's created his food and drinks menus. His Glendor burger is made from beef from Glendor Farm, a fourth-generation 130 acre grass farm in the heart of the Shenandoah Valley. He will serve Papa Weaver's Pork, raised by seventh generation farmer Tom Weaver on a family farm originally owned by President James Madison. The chicken is SVO, short for Shenandoah Valley Organic's Farmer Focus Chicken. Breads are from Staff of Life, a production-only bakery that sells its European-style breads at farmers market in Harrisonburg. The Kline's Dairy Bar Ice Cream on the dessert menu is from a business established in Harrisonburg in 1943, when John Kline began Kline's Frozen Custard.
Other purveyors include Bittersweet Bakery in Harrisonburg, Edwards Virginia Smokehouse in Surry, Fae & Fauna Mushrooms of Swoope, and Main Street Farmstead in Stuart's Draft.
Two Virginia-distilled bourbons, Ragged Branch Wheated Bourbon and Kopper Kettle Virginia Straight Bourbon, will be poured. There's also a notable range of Virginia microbrews, including Red Molly Irish Red Ale from Pale Fire Brewing and Hoptimization IPA from Brothers Craft Brewing, both based in Harrisonburg. Other Virginia breweries whose beers are available include Basic City Brewing, Three Notch'd Brewing, and Stable Craft Brewing.
Virginia's wines are well represented, with a Chardonnay from Bluestone Vineyards in Bridgewater, the Afton Mountains Vineyards "Monticello" Red Blend from Afton, and the Crosskeys Vineyards Viognier from Mt Crawford. The Virginia imprint also extends to many of the restaurant's furnishings, including chairs made by local craftspeople.
A free breakfast is offered at The Breakfast Bar while The Placery, in the lobby, serves a curated menu of comfort food at lunch and dinner and offers full bar service. There is 1,977 square feet of meeting space, complimentary WiFi, a 24/7 fitness center, an indoor heated pool, ample parking and EV charging stations.
For more info, visit Hyatt Place Harrisonburg.