Paul Busse is the artistic visionary behind the New York Botanical Garden's Holiday Train Show.®    
On a walk through the woods on his property in Alexandria, Kentucky, where he and his wife, Margaret, run their design company Applied Imagination, Busse and the artists on his team inevitably bring back some interesting tidbit that can be used in crafting one of his magical displays. A piece of bark or a fallen berry might be transformed into a stone on the Brooklyn Bridge or an ornament on St. Patrick's Cathedral. His reputation as a designer of wondrous landscapes built around trains and structures made from plant parts took off when he mounted the first Holiday Train Show® for The New York Botanical Garden in 1992.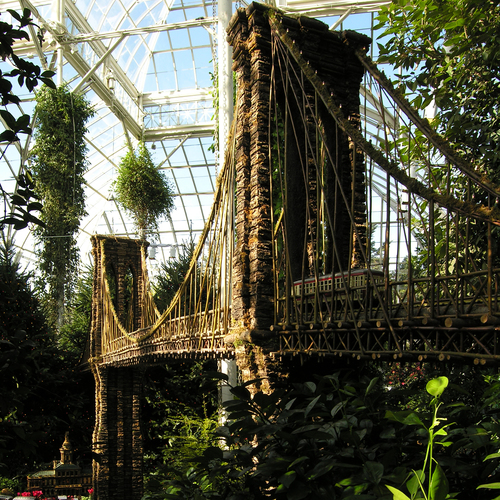 The annual holiday tradition runs from November 22, 2017 to January 15, 2018. The 26th year of this popular tradition will spotlight Midtown Manhattan, with newly created versions of such icons as the Empire State Building, Chrysler Building, General Electric Building, and St. Bartholomew's Church. They join NYBG's collection of more than 150 model New York buildings and landmarks as well as more than 25 large-scale model trains and trolleys. Set in the spectacular Enid A. Haupt Conservatory, the model trains travel along nearly a half-mile of tracks, going past re-creations of iconic sites from all five boroughs of New York City, the Hudson River Valley, and other locations in New York State.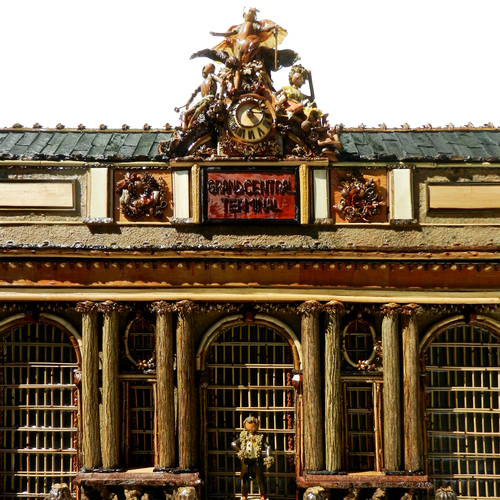 Artistically crafted by Paul Busse's team at Applied Imagination, these landmarks are made of natural materials such as bark, twigs, stems, fruit, seeds and pine cones, and include such perennial visitor favorites as the Brooklyn Bridge, Statue of Liberty, Grand Central Terminal, and the original Yankee Stadium.
Visit The New York Botanical Garden.