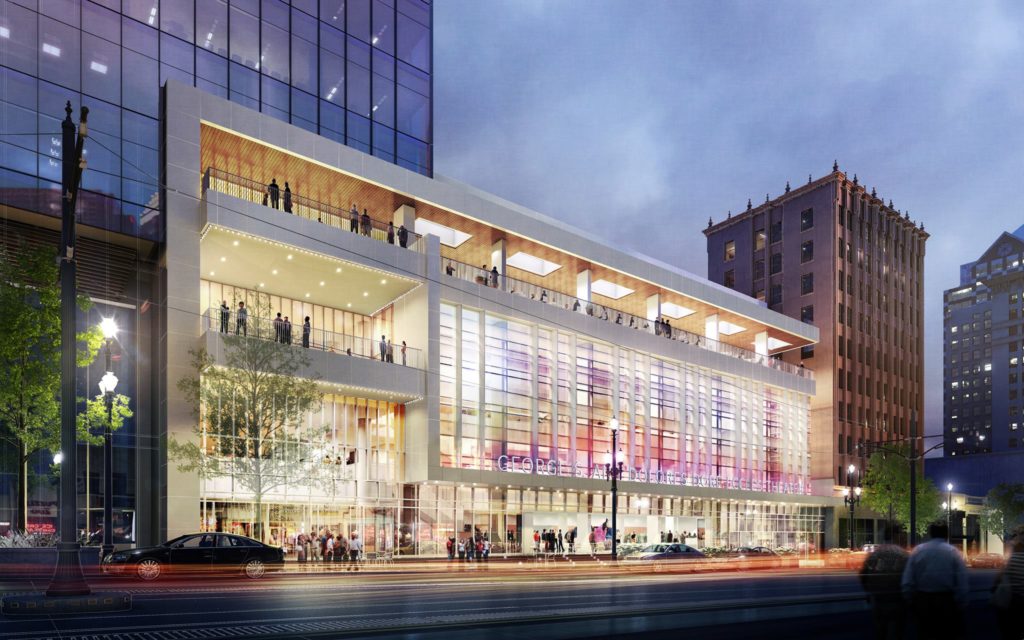 The George S. and Dolores Doré Eccles Theater opens on Friday with a three-day celebration from October 21st through 23rd, showcasing national headliners and Utah's rich arts and entertainment community.
The grand opening will include performances by Tony Award-winning performer Brian Stokes Mitchell and "Smash" television actress and Tony-nominated Broadway performer Megan Hilty, Ballet West, the Utah Opera Chorus, Repertory Dance Theatre and Ririe-Woodbury Dance Company. "Music and the Spoken Word" with the Mormon Tabernacle Choir & Orchestra at Temple Square will broadcast from the theater on Sunday, October 23, at 9:00 AM.
The six-story glass walled theater overlooks Main Street and was designed by Pelli Clarke Pelli and HKS Architects. It was developed and built by Layton Construction, a company responsible for such Salt Lake landmarks as the Rice-Eccles Stadium, the Rio Tinto MLS Stadium and the LEED Gold certified James L Sorenson Molecular Biotechnology Building (USTAR). Inside is the 2,500-seat Delta Performance Hall, designed for acoustic excellence and featuring overhead lights that suggest a starlit Utah canyon. A separate 150-seat black box theater is part of the complex, as well as the Encore Bistro at Eccles Theater. Cuisine Unlimited Catering & Special Events oversees Encore Bistro, which will be open for breakfast and lunch, and offer dinner on performance nights, with a menu customized to match the current show.
During the inaugural 2016-2017 season, will host Tony-award-winning productions such as Beautiful, Kinky Boots, Matilda, The Lion King and The Book of Mormon. In 2017-2018, Hamilton will make its Utah debut here.
The heart of downtown Salt Lake's arts district is now complete, with the Eccles Theater joining The Jessie Eccles Quinney Ballet Centre, home to Ballet West; Abravanel Hall , home to the Utah Symphony; and The Janet Quinney Lawson Capitol Theatre, which hosts the Utah Opera. The city's best restaurants and bars and hotels are within walking distance of these venues, as is the TRAX light rail system that connects Salt Lake City Internal Airport with the urban center and the nearby mountain resorts.
Go to the George S. and Dolores Doré Eccles Theater website for more details and a full schedule of upcoming performances.