This Year's Popular Seasonal Pumpkin Displays Celebrate Yayoi Kusama's Pumpkin Passion,
September 18–October 31, 2021
Kiku, Floral Sculptures Featuring Chrysanthemums, Reflect Colors and Patterns in Kusama's Artworks,
October 2–31, 2021
The New York Botanical Garden (NYBG) announced today fall seasonal highlights complementing its critically acclaimed exhibition KUSAMA: Cosmic Nature, on view through October 31, 2021. The exclusive presentation features work by internationally celebrated Japanese artist Yayoi Kusama. Showcasing the artist's lifelong fascination with the natural world, the exhibition is installed across the Botanical Garden's landscape, in and around the Enid A. Haupt Conservatory, and in the LuEsther T. Mertz Library Building. NYBG's annual displays of varieties of pumpkins and gourds will be featured on the Haupt Conservatory Plaza and at the Mertz Library Building this year—each location a gateway to Kusama works within those venues—from September 18 through October 31. Magnificent kiku floral sculptures (kiku is the Japanese word for "chrysanthemum") will be integrated with the KUSAMA exhibition in the Conservatory from October 2 through October 31. Advance, timed, limited-capacity tickets for the landmark presentation are required and are on sale at nybg.org/kusama.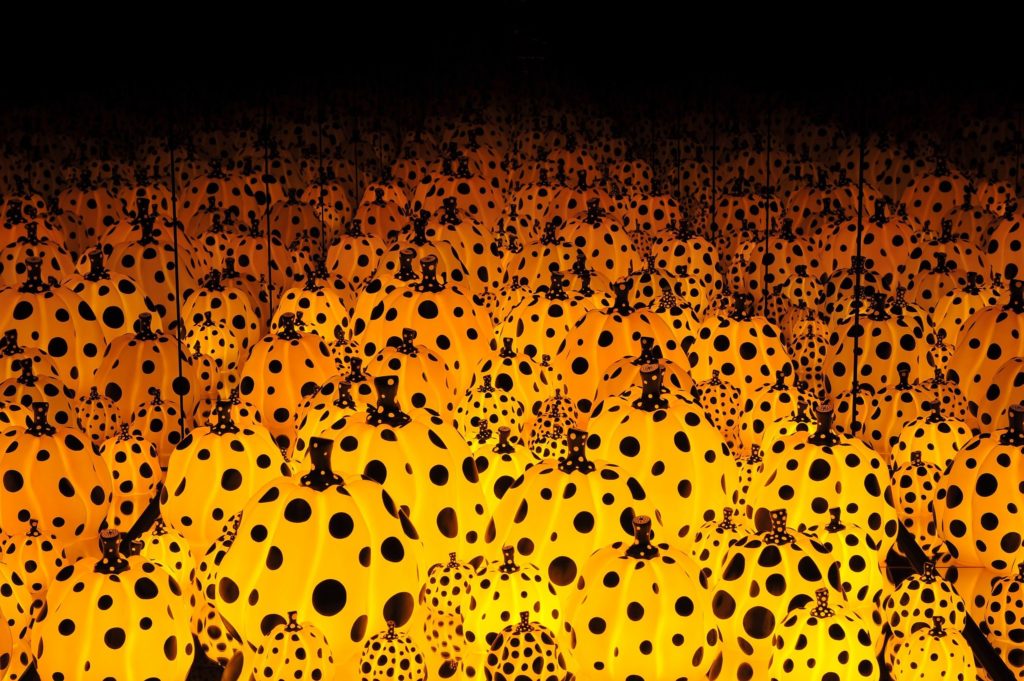 Kusama's Pumpkin Passion
The Garden's seasonal display of pumpkins and gourds returns with a delightful added dimension this year as KUSAMA: Comic Nature features several artworks depicting pumpkins, a longtime obsession for the artist since her childhood spent in the hothouses and fields of her family's seed nursery. Accompanying Pumpkins Screaming About Love Beyond Infinity (2017)—a mirrored cube reflecting an infinity of polka-dotted pumpkins—is a statement by the artist that reads, in part, "My pumpkins, beloved of all the plants in the world. When I see pumpkins, I cannot efface the joy of them being my everything, nor the awe I hold them in."
Beginning September 18, 2021, NYBG visitors will encounter a wide variety of pumpkins, squashes, and gourds arranged on the Conservatory Plaza and at the Library Building. On the Conservatory Lawn adjacent to the Plaza, Kusama's monumental Dancing Pumpkin (2020) sculpture, which was created especially for the exhibition, greets visitors with its exuberant polka-dotted form.
Public programs dedicated to everything cucurbit—the pumpkin family name—will be available through October 31, from carving tips to fall recipes to decoration ideas. Check 
here
 for more details.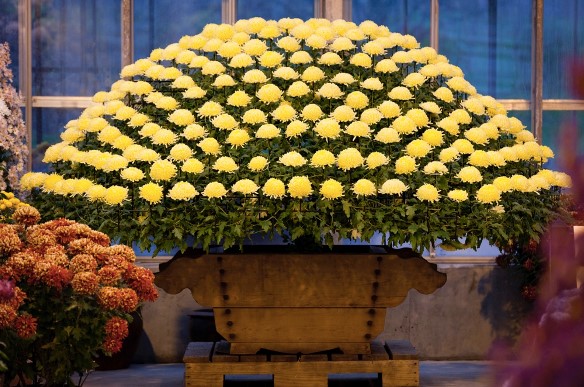 Kiku and Kusama in the Conservatory
NYBG's beloved tradition of kiku—magnificent displays of chrysanthemums in astonishing forms, styles, and sizes—will be integrated with KUSAMA: Cosmic Nature and on view in select galleries of the Conservatory from October 2 through October 31, 2021. Kiku is the most celebrated of all Japanese fall-flowering plants, and this year's presentation complements the artist's signature polka-dot and bold patterned artworks that she attributes to her fascination with natural patterns she observes in the plant world.
The stunning kiku displays will be installed in dialogue with Kusama's Starry Pumpkin (2015), echoing the pastel colors of the sculpture's gold and pink polka-dotted mosaic surface, and in planting beds presenting vibrant red and orange varieties inspired by her painting Alone, Buried in a Flower Garden (2014).
In accordance with the training Botanical Garden experts received from kiku masters at Tokyo's Shinjuku Gyoen National Garden and passed on to their colleagues, NYBG horticulturists work for 11 months each year to grow and meticulously train and shape chrysanthemum plants. Cultivated from tiny cuttings, the kiku are pinched back, tied to frames, and carefully nurtured. Flower buds develop as the autumn nights grow longer and, in October, the plants burst into vibrant blooms.
Several traditional kiku styles will be on display, including:
Ozukuri (Thousand Bloom): In this highly complex technique, a single stem is trained to produce hundreds of blossoms simultaneously in a massive, dome-shaped array.
Kengai (Cascade): This technique features small-flowered chrysanthemums. They are trained to conform to boat-shaped frameworks that appear to cascade downward like waterfalls for lengths of up to six-and-a-half feet. The result is a burst of hundreds of tightly clustered blooms.
Ogiku (Single Stem): These plants feature enormous individual flowers perched at the ends of stems up to six feet tall.
Contemporary Dance Series
Fall programming highlights include NYBG's popular 
Contemporary Dance Series
 with Trainor Dance performing September 11 and 12 and October 2 and 3; Ballet Hispánico on October 9 and 10; and the Dance Theatre of Harlem on October 16 and 17. The outdoor performances are from 2 to 5 p.m. and are included with KUSAMA Garden & Gallery Pass or KUSAMA Garden Pass tickets.