The New York Botanical Garden (NYBG) announces the opening of its expansive 2021 exhibition, KUSAMA: Cosmic Nature, featuring work by internationally celebrated Japanese artist Yayoi Kusama. Postponed in 2020 due to the COVID-19 pandemic, the exhibition includes four experiences debuting at the Botanical Garden. NYBG is the exclusive venue for KUSAMA: Cosmic Nature. On view April 10 through October 31, 2021, the exhibition is installed across the Garden's landscape, in and around the Enid A. Haupt Conservatory, and in the LuEsther T. Mertz Library Building. Advance, timed, limited-capacity tickets for the landmark presentation are required and on sale at nybg.org/kusama.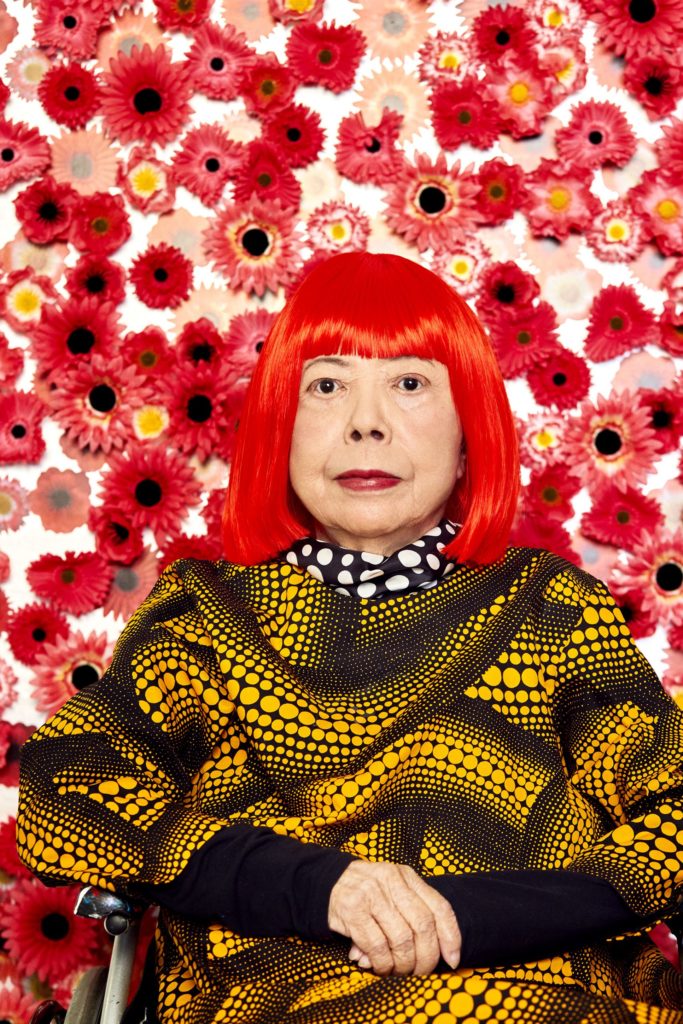 The exhibition, related programs, and accompanying publication reveal Kusama's lifelong fascination with the natural world and its countless manifestations beginning in her childhood spent in the greenhouses and fields of her family's seed nursery in Matsumoto, Japan. The exhibition includes works from throughout Kusama's prolific career and multifaceted practice. By integrating seasonal horticultural displays, KUSAMA: Cosmic Nature further illuminates the power of nature that pervades the artist's practice and dynamic body of work.
Multiple outdoor installations, including monumental sculptures of flora transform the Garden's 250-acre landscape and the visitor experience. Her signature polka-dotted organic forms and mesmerizing paintings of plants and flowers are also represented. Recent vivid observations of nature, shown alongside earlier works that have never been publicly exhibited and those that are presented for the first time in the United States, trace Kusama's connection to the natural world throughout her career.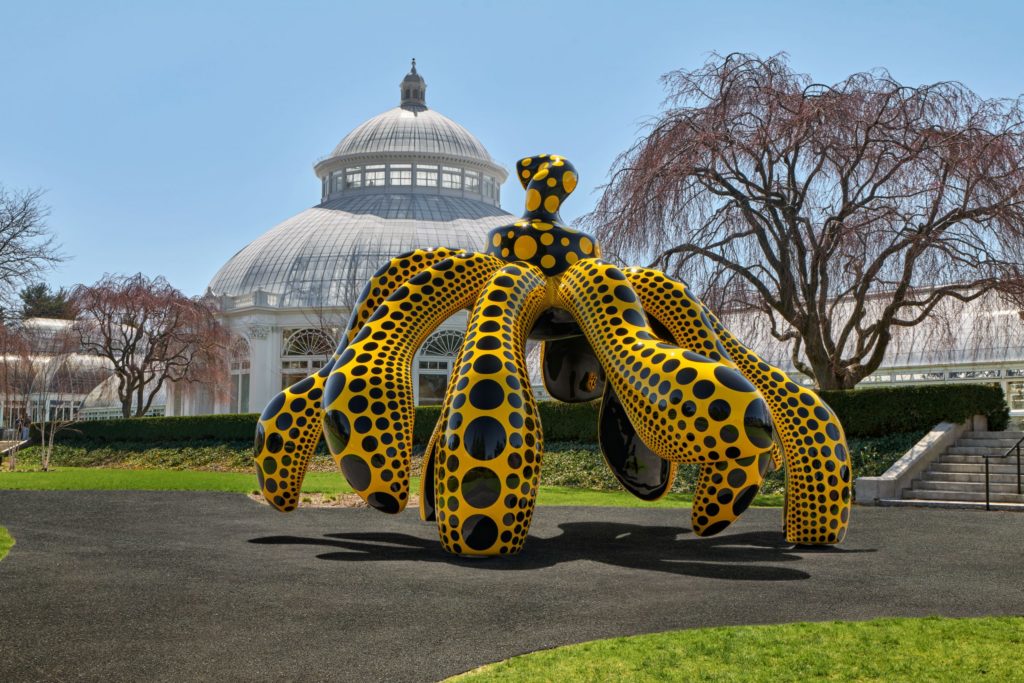 Among the works created for and debuting in the exhibition are:
Flower Obsession (2017/2021), Kusama's first-ever obliteration greenhouse;
Dancing Pumpkin (2020), a monumental sculpture presented on the Haupt Conservatory Lawn;
I Want to Fly to the Universe (2020), a 13-foot-high biomorphic form presented in the Visitor Center; and,
Infinity Mirrored Room—Illusion Inside the Heart (2020), an outdoor installation reflecting its environs.
Spectacular seasonal displays complement the artworks on view, making each visit unique as new plantings, textures, and palettes are introduced. Glorious outdoor displays of tulips and irises in spring give way to dahlias and sunflowers in summer, and masses of pumpkins and autumnal flowers in fall. In and around the Conservatory, Kusama's plant-inspired polka-dotted sculptures are nestled among meadow grasses, bellflowers, water lilies, and other plantings. Stunning floral presentations bring to life one of Kusama's paintings on view in the Mertz Library Building through a seasonal progression of violas, salvias, zinnias, and other colorful annuals. In fall, displays of meticulously trained kiku (Japanese for "chrysanthemum," one of that country's most heralded fall-flowering plants) will create a dramatic finale for the Conservatory displays.
KUSAMA: Cosmic Nature guest curator Mika Yoshitake, Ph.D., said, "For Kusama, cosmic nature is a life force that integrates the terrestrial and celestial orders of the universe from both the micro- and macrocosmic perspectives she investigates in her practice. Her explorations evoke meanings that are both personal and universal. Nature is not only a central source of inspiration, but also integral to the visceral effects of Kusama's artistic language in which organic growth and the proliferation of life are made ever-present."
In the Garden
On the Conservatory Lawn, visitors encounter the monumental Dancing Pumpkin, a 16-foot-high bronze sculpture painted in black and yellow. Both playful and powerful, it is sited in an immersive landscape of river birches, flowering plants, grasses, and ferns. The setting is inspired by the sculpture itself and the birch forests near Kusama's childhood home.
Visitors can marvel at the bright, purple-tentacled floral form with a vivid yellow primordial face of I Want to Fly to the Universe in the Visitor Center Reflecting Pool, and then behold Ascension of Polka Dots on the Trees (2002/2021), where soaring trees adorned in vibrant red with white polka dots pop in the landscape along Garden Way.
Narcissus Garden (1966/2021), 1,400 stainless steel spheres each nearly 12 inches in diameter, is installed in the 230-foot-long water feature of the Native Plant Garden. The reflective orbs float on the water's surface, moved by wind and currents, each mirroring the environment around them to captivating effect.
With interior access planned to begin this summer, Kusama's new Infinity Mirrored Room will operate per New York State and City guidelines for social distancing and visitor safety. The installation, Infinity Mirrored Room—Illusion Inside the Heart (2020), responds to natural light through colored glass throughout the day and seasons. Reflecting the seasonality of NYBG's landscape, the exterior will be on view with the opening of the exhibition. A separate timed-entry ticket will be required for limited-capacity access.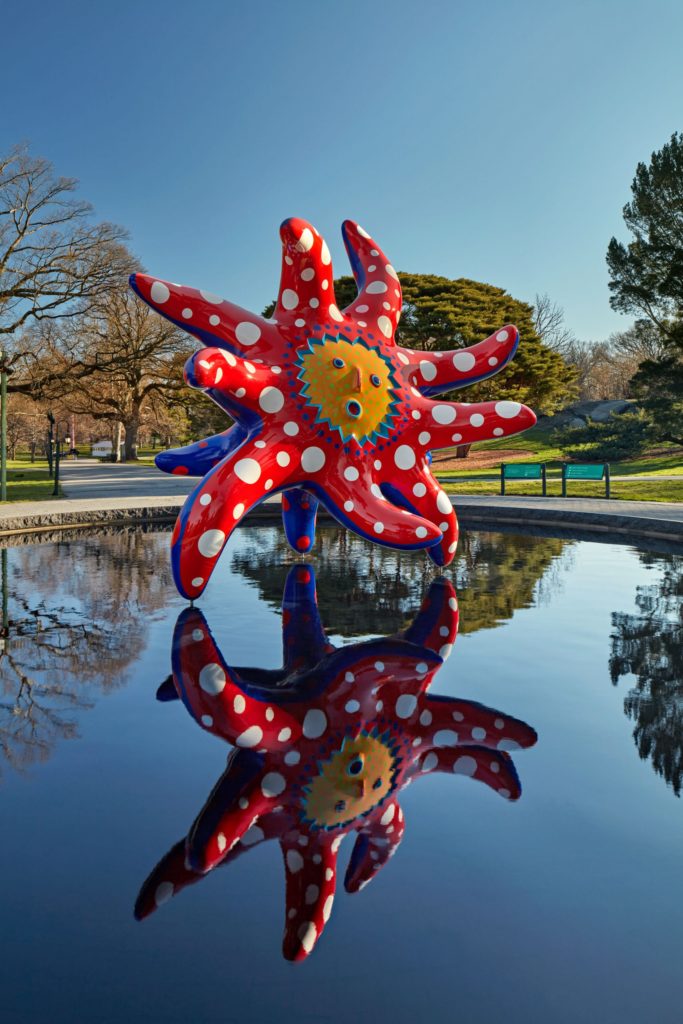 In the Galleries
Inside Flower Obsession, visitors may apply coral-colored floral stickers to the furniture and household objects. Over the course of the exhibition, the accumulating stickers will transform the greenhouse. Through works like this, Kusama employs the repeating patterns and forms of flowers to represent the concepts of obliteration, infinity, and eternity.
Three galleries in the Conservatory feature a horticultural celebration of Kusama's self-proclaimed biophilia. My Soul Blooms Forever (2019), colossal polka-dotted flowers made of stainless steel and painted in dramatic colors, greet visitors under the recently restored dome of the Palms of the World Gallery.
In the Seasonal Exhibition Galleries, the pink-and-gold mosaic Starry Pumpkin (2015) is featured in a woodland garden of foliage and flowers chosen to harmonize with the sculpture's pink polka dots. Using Kusama's vibrant painting Alone, Buried in a Flower Garden (2014) as inspiration, NYBG horticulturists have designed a living work of art to mimic the painting's bold shapes and colors, with plantings changed seasonally. The patchwork of shapes in the painting reads as garden beds seen from above.
In the Conservatory Courtyard Hardy Pool, the exuberantly colored and patterned sculpture Hymn of Life—Tulips (2007) depicting outsized, fiberglass flowers is positioned among water lilies and other seasonal aquatic plantings. The Courtyard also features plantings—including an array of tulips in spring and colorful annuals in summer—that complement the dynamic sculpture on display.
Pumpkins Screaming About Love Beyond Infinity (2017) comprises a glass cube reflecting an infinity of glowing polka-dotted pumpkins within it. The work, one of Kusama's signature mirrored environments, is installed in the Visitor Center Gallery. Viewed from the outside, the installation changes over time as pumpkins illuminate and then fade to darkness in a meditative choreography. Kusama has said of pumpkins, "My pumpkins, beloved of all the plants in the world. When I see pumpkins, I cannot efface the joy of them being my everything, nor the awe I hold them in."
On display in the Library Building, Kusama's 1945 sketchbook reveals the 16-year-old artist's keen eye for detail in some 50 drawings capturing the bloom cycle of tree peonies. This work is an early product of a lifelong connection with the natural world that has inspired her practice across mediums. It also portends avant-garde ideas she developed while living in New York City between 1958 and 1973, as a contemporary of Joseph Cornell, Eva Hesse, Donald Judd, and Claes Oldenburg, and continues to explore rigorously today.
The Library Building presentation also features examples of her botanical drawings, works on paper, biomorphic collages, assemblage boxes, sculptures, and paintings on canvas depicting flora and its limitless variety of patterns.
Kusama's considerable body of performance works is represented in the Ross Gallery by a projection of Walking Piece (ca. 1966/2021), a performance in which Kusama walked the streets of New York City wearing a bright-pink floral kimono and carrying an umbrella decorated with artificial flowers. Art historians have analyzed Walking Piece as a carefully calculated representation of the artist's ethnicity and gender, one that was intended to demand attention.
From monumental polka-dotted pumpkin sculptures to abstract paintings that resemble cells magnified thousands of times, Kusama's works suggest the patterns that can be observed all around us. The self-guided Patterns in Nature Tour, featured on the Bloomberg Connects mobile app, examines the visible—and microscopic—patterns found in nature. Visitors will discover what the patterns of leaf placement, flower petals, and magnified laboratory specimens reveal about what makes species unique as well as how all living things are connected at the genomic level.
Karen Daubmann, Vice President for Exhibitions and Audience Engagement at the Garden, said, "We are delighted to mount this very special exhibition this year, having postponed it in 2020 due to the pandemic. Yayoi Kusama kindly shared a message with us. On March 6, 2021, she wrote, in part, 'Dancing through our universe are noble souls whose magnificent forms are saturated with mystery. I invite you to explore the endlessly expanding ode to the beauty of love that is my art.' We look forward to sharing her singular vision at the nexus of art, nature, and the cosmos at the Garden—a site uniquely suited for this once-in-a-lifetime presentation."
Programs and Publication
KUSAMA: Cosmic Nature is accompanied by a roster of public programs for all ages, including pop-up performances by musicians, jugglers, and puppeteers; self-guided "Kids Get Cosmic!" activities in the Everett Children's Adventure Garden; and more. Signature exhibition merchandise is available for purchase at NYBG Shop.
Coming in summer 2021, a fully illustrated exhibition catalogue, co-published with Rizzoli Electa, will include essays by KUSAMA: Cosmic Nature guest curator Mika Yoshitake, art historian Jenni Sorkin, curator Alexandra Munroe, and other contributors, including curators and a scientist from NYBG. The publication will focus on Kusama's lifelong engagement with nature and the ways her interest in nature and plants has formed her career-long investigation of themes of the cosmos and the interconnectedness of all living things. Images of works displayed in The New York Botanical Garden landscape will be featured.
Ticketing
Since reopening July 28, 2020, the Garden has incorporated safety measures based on best practices and guidelines from health authorities and government agencies. Admission to the Garden is currently available through the advance purchase of timed tickets. For more information, go to nybg.org/visit.