The most dramatic event for any New York City visitor this summer is CHIHULY at The New York Botanical Garden. The exhibit showcases artworks by world-renowned artist Dale Chihuly, set within NYBG's landmark landscape and buildings for the first time in 10 years. This sensory-filled exhibition is a must-see until October 29, 2017. There are special weekend celebrations, fun-filled art programs for kids, and CHIHULY Nights.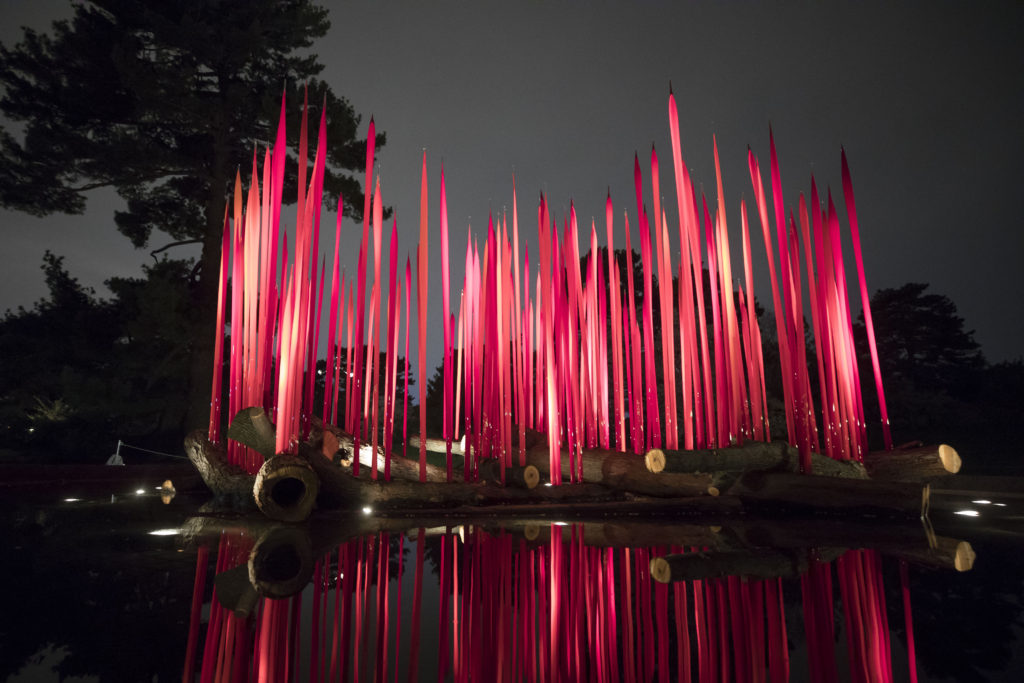 NATURE'S SCULPTURES
Using Chihuly's glass sculptures as a foundation, kids can explore the shapes and colors of plants in the Everett Children's Adventure Garden. Find inspiration in the vivid colors and patterns of nature throughout the Garden's landscape, and craft a habitat to house your own air plant. Daily, 10 a.m.–5:30 p.m. through October 29, 2017.
CHIHULY NIGHTS
On CHIHULY Nights, the exhibition is filled with energy as the artworks are spectacularly illuminated amid NYBG's sweeping vistas and magnificent Conservatory. After sunset, the atmosphere is thrilling: experience the heightened drama and luminous quality of Chihuly's colors and forms when lit under the evening sky. In the Visitor Center plaza, a rotating lineup of performing artists and musicians provides entertainment while you relax and enjoy shopping, food, and Avión Tequila cocktails available for purchase. This Saturday, June 24; Thursdays, July–August; Thursdays–Saturdays, September–October; 6:30–10:30 p.m.
SUMMER CONCERT SERIES: JAZZ & CHIHULY
With the glass-domed Conservatory as the backdrop, this innovative series developed in collaboration with Catskill Jazz Factory and Absolutely Live Entertainment presents themed evenings showcasing today's dynamic jazz talent. Bring your blankets and low-back chairs, pick up a snack at the cafe, and enjoy the best seat in the house on the scenic Conservatory Lawn. Before and after each concert, stroll among the CHIHULY artworks as the sun sets. Fridays, July 14 and August 18; 6:30–10:30 p.m.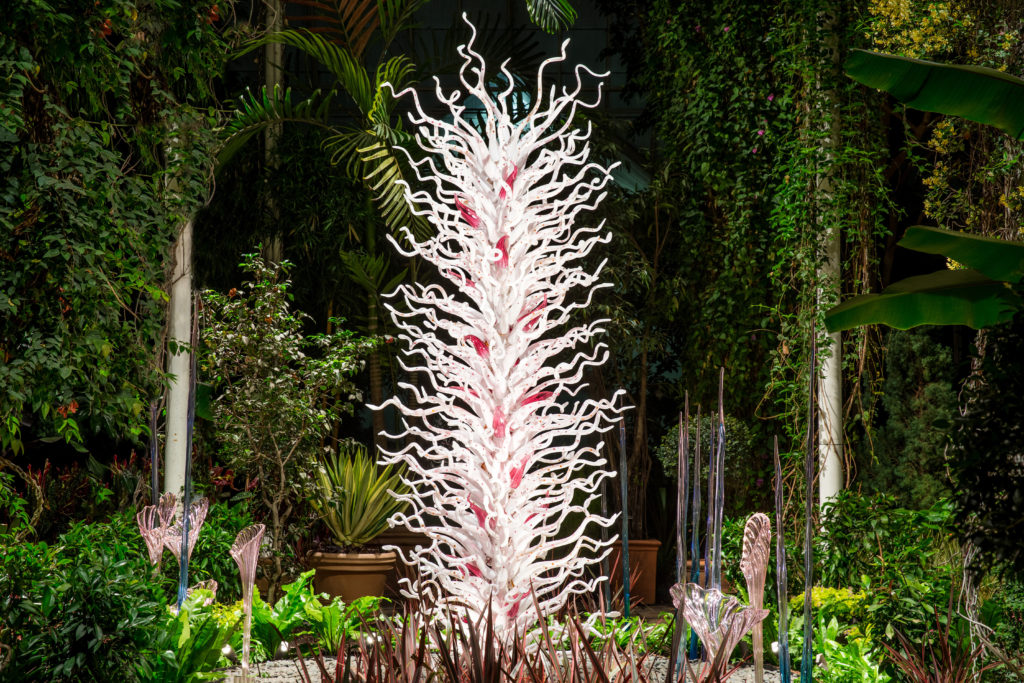 CHILLIN' WITH CHIHULY
Spend the day exploring the beauty of Chihuly's glass sculptures and see live glass fire working demonstrations. Relax to live music on the Conservatory Lawn and stay cool with treats and refreshments available for purchase. August 12 & 13, 2017; 10 a.m. – 6 p.m.
GETTING TO NYBG
Metro-North Railroad offers an NYBG Getaway Package that includes an All-Garden Pass and a round-trip train ticket from Grand Central Terminal to the Botanical Garden Station in just 20 minutes. The package can be purchased at any Metro-North ticket window or kiosk in Grand Central Terminal. Visit Metro-North Railroad for more details. NYBG has partnered with Metro-North Railroad and Grand Hyatt New York on a lodging and admission package that features roundtrip direct service tickets for two to The New York Botanical Garden from Grand Central Terminal, admission tickets for two to CHIHULY, exclusive discounts to the shops and dining at NYBG.