October days in Montana offer brilliant blue skies, warm sunshine, and the perfect conditions for optimal birding. From October 26–30, Triple Creek Ranch in Darby, will host "Autumn Birding in the Bitterroot with Greg Miller." Montana is home to more than 400 bird species and the Bitterroot Valley is a birder's paradise. The Audubon Society has designated it a "birding hotspot."  You can expect to find typical forest birds such as woodpeckers, chickadees, nuthatches, and Yellow-rumped Warblers in the Darby area. With American Dippers nesting nearby, and Ospreys and Bald Eagles often flying overhead.
It's the ideal setting for day outings with the legendary birder, Greg Miller, who joins Triple Creek Ranch's staff in leading guests over the mountains, through the woods, across the prairies, and along the rivers in search of some of his favorite birds. Greg's specialty includes identifying birds by their songs. And he was even portrayed in the book and movie The Big Year.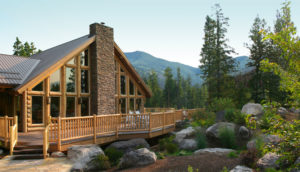 Triple Creek Ranch has been named Condé Nast Traveler's favorite hotel in Montana, one of Gwyneth Paltrow's favorite dude ranches, and even been declared the best hotel in the world by Business Insider.  Triple Creek Ranch offers an all-inclusive vacation experience of refined rustic elegance in a tranquil, adult-only setting. Discerning travelers can thrill to
authentic Montana adventures, unwind in the sumptuous comfort of a private cabin, savor the freshest contemporary cuisine, and bask in gracious five-star service amidst the romance of a forested mountain retreat.