Provincetown, the free-spirited LGBTQ+ capital of the United States, embraces the holiday spirit and welcomes 2024 with a splash. The celebration starts with a nod to the Pilgrims, continues with concerts and parties, and concludes with the bracing Polar Bear Plunge in Provincetown Harbor. Holiday shopping at Ptown's fantastic array of inspired, festive, and fabulous shops happens all month, with free parking as a bonus.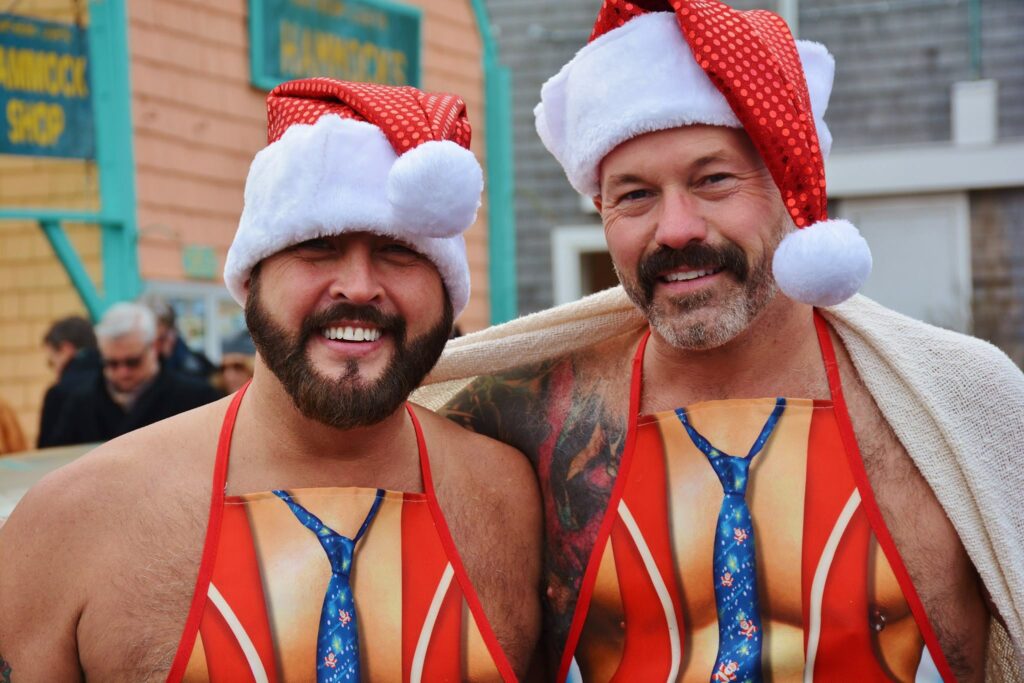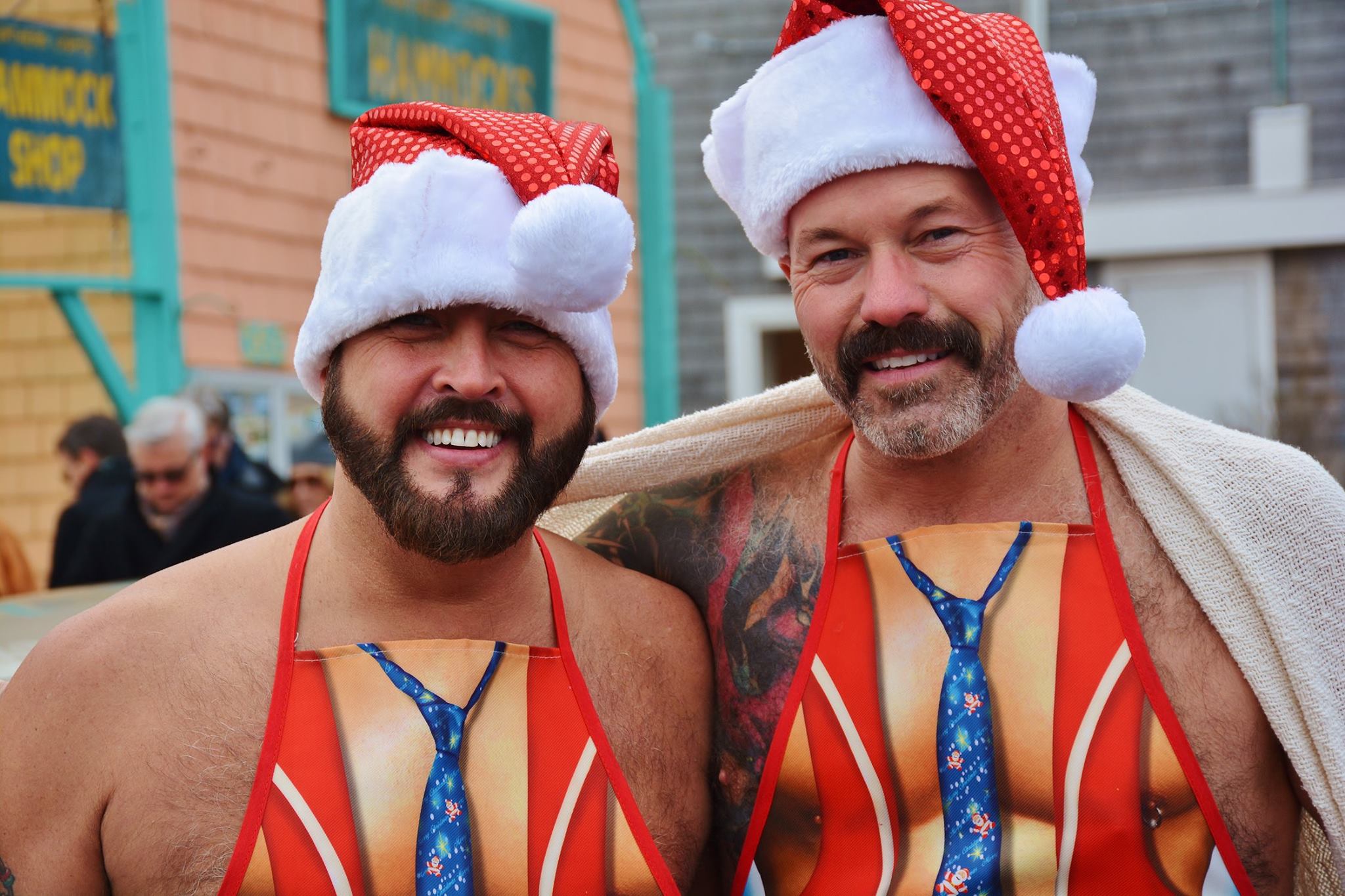 ANNUAL LIGHTING OF THE PILGRIM MONUMENT
Provincetown's festive spirit will be in the air on November 11, 2023, with the Annual Lighting of the Pilgrim Monument. It commemorates that day in 1620 when the Pilgrims first came ashore in Provincetown before eventually sailing to Plymouth. This is a community event, free to the public. Before the lighting, there is a new ticketed event mixing, mingling, food, and drink. The lighting will occur on November 11, 2023, at 6 p.m.
LOBSTER POT TREE
The lighting of the Lobster Pot Tree in Lopes Square on November 25, 2023, has been an annual Provincetown tradition since 2004, with carol singing and a countdown to the lighting. This sculptural "tree" is made from over 100 stacked lobster pots adorned with ribbons and lights, a yearly celebration of the local fishing community.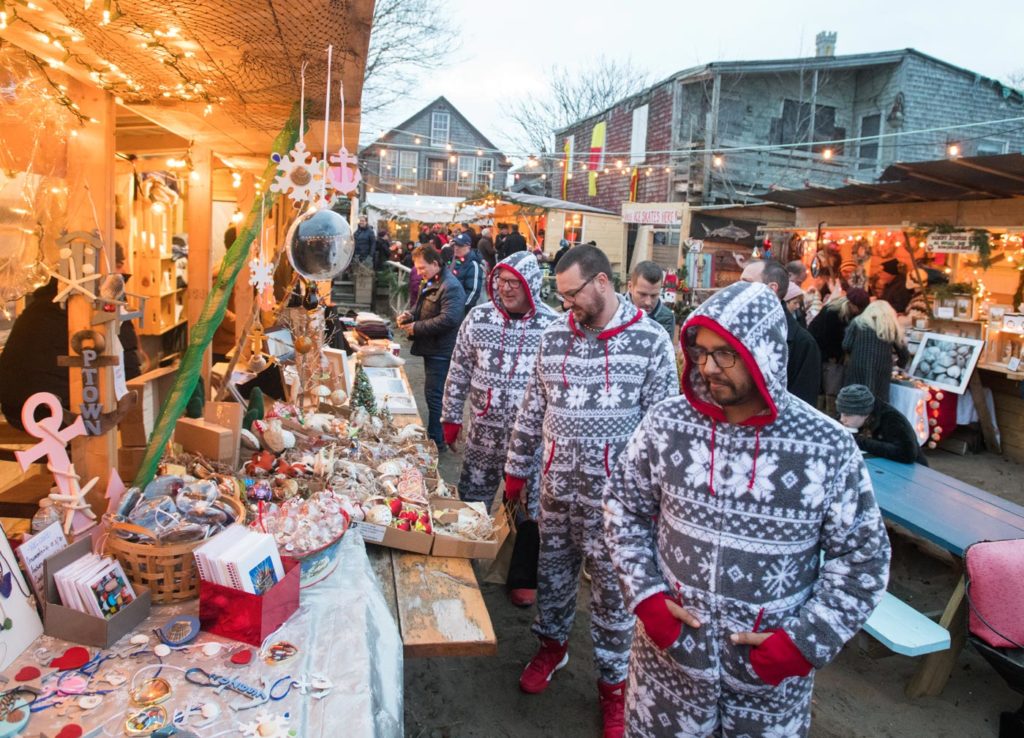 CANTEEN HOLIDAY MARKET
The Canteen's Holiday Market is a month-long pop-up celebration on weekends from November 24 to December 31, 2023. The Canteen is transformed into a magical, cozy place to gather, enjoy holiday food and drink, and buy handcrafted goods from 25 local artisans. The Canteen's beach bar is transformed for the holidays with twinkling lights, snug blankets, fire pits, and steaming mugs of holiday drinks. The Winter Lodge is a chalet-style pop-up restaurant featuring holiday-themed dining rooms serving classic European winter dishes like homemade pretzels, raclette, and grilled sausages in addition to the everyday Canteen menu.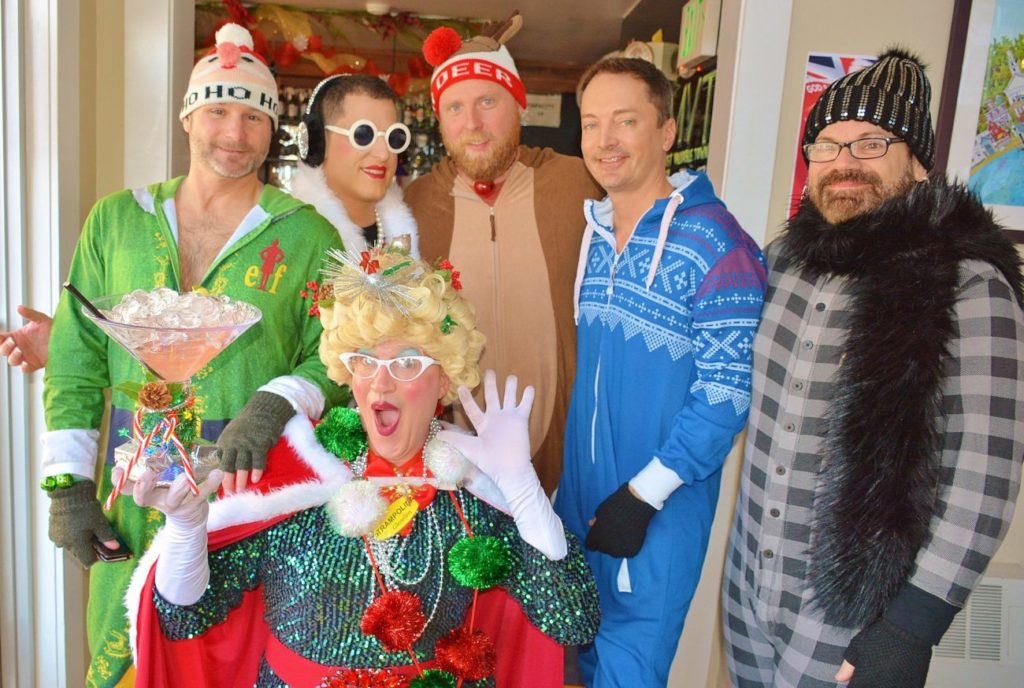 HOLLY FOLLY
Provincetown's holiday festivities kick into high gear with Holly Folly from December 1-3, 2023. The nation's original LGBTQ+ Holiday Celebration, Holly Folly, began in 1997 and celebrated its 25th Anniversary in 2022. It's about community, fun, and holiday shopping at the unique shops, boutiques, and galleries that line Commercial Street.
The fun begins at the Crown & Anchor, which presents Holly Folly Follies: A GAY Holiday Extravaganza! on December 1 at Town Hall. Doors open at 7:30 PM.
On Saturday, December 2, it's time for the 2023 Annual Holly Folly Jingle Bell Run & Brunch Fundraiser.  The event calls itself a "one-horse-open-slay your way down Commercial Street in as little clothing as you dare for this frosty fun-run." The race starts at Fanizzi's for coffee, followed by a dash through Provincetown to the Lobster Pot Tree before adjourning to a Brew Brunch at Provincetown Brewing Co.
Another Holly Folly tradition kicks off the evening of December 2 when Boston Gay Men's Chorus: Green & Gleeful takes the stage at Town Hall on Saturday night.
On December 3, it's time for Holly Folly Bingo with Austin & Mackenzie at the Crown & Anchor.
For more Holly Folly events, visit the Provincetown Business Guild.
OUTER CAPE CHORALE
The Outer Cape Chorale will hold town concerts at Provincetown Town Hall. "Glorious" will include a brass ensemble and 120 singers led by Artistic Director Allison Beavan. They will perform "Gloria" by John Rutter and the Commissioned World Premiere of "Reindeer Cantata" by Robert Grady. Performances will be on December 8 at 7 p.m. and December 9 at 5 p.m. Concerts are free, and donations are welcome.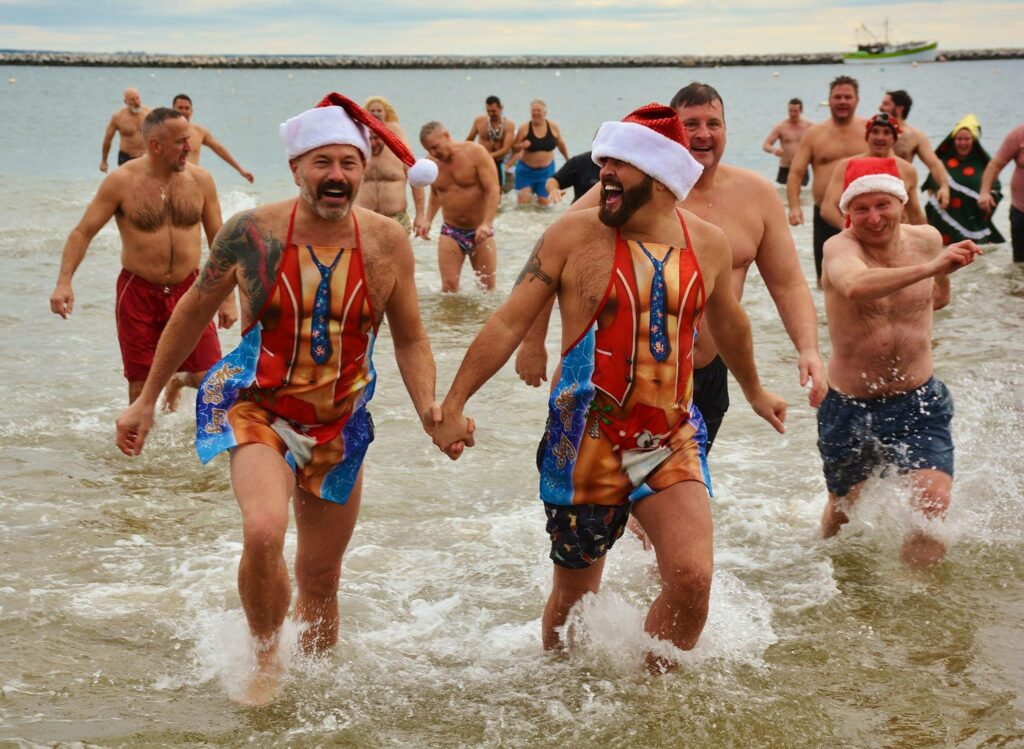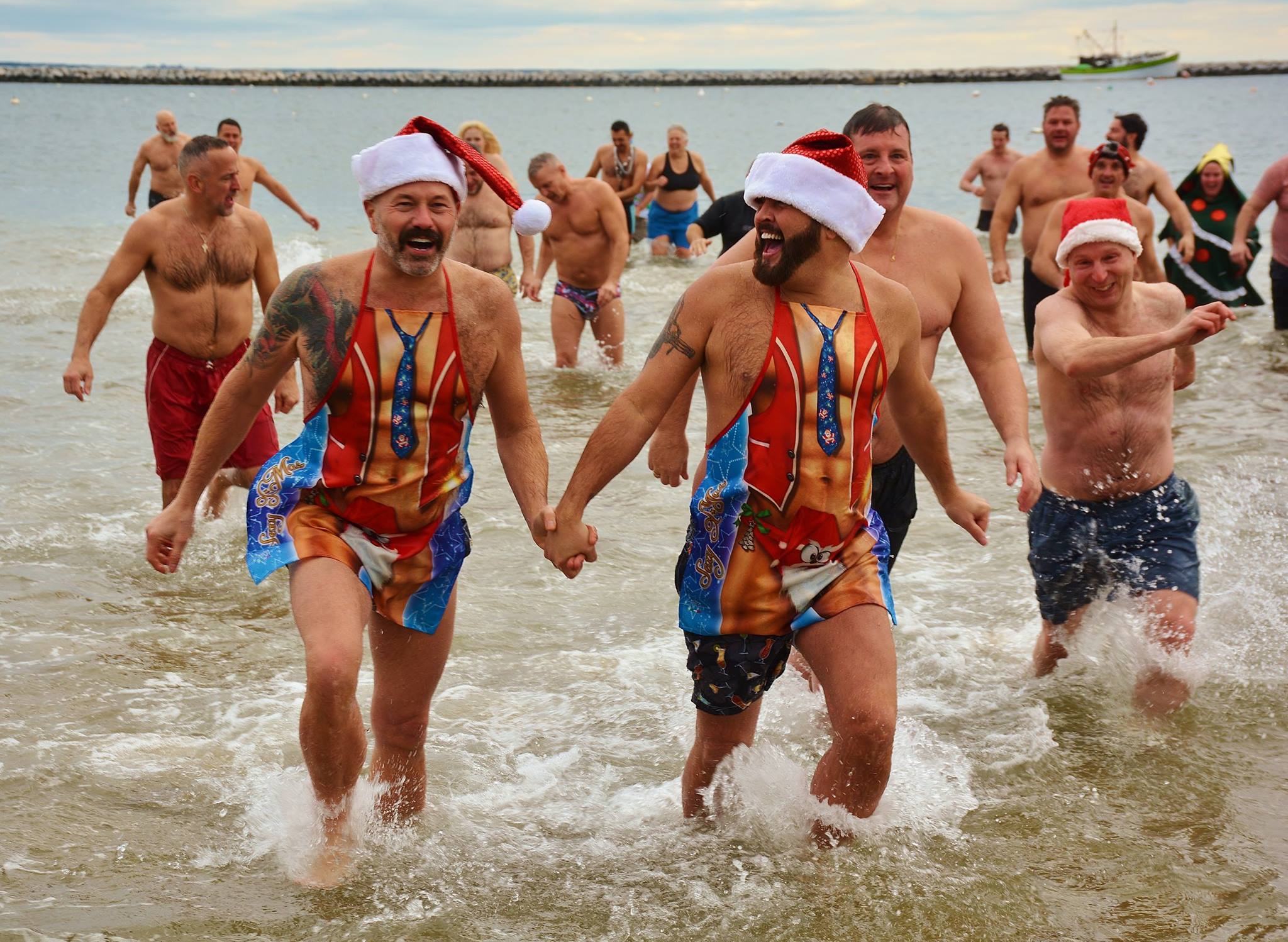 FIRST LIGHT
To welcome in 2024, there's First Light Provincetown, from December 29, 2023 – Jan 1, 2024. First Light is the year's finale, a four-day-long event featuring holiday parties, events, and performances. The end-of-year festivities begin with Well-Strung in Home for the Holidays, a Holiday Reunion Show at Town Hall,  presented by Mark Cortale. The string quartet plays classical pieces while singing pop music hits from Taylor Swift, Rihanna, Kelly Clarkson, and other pop stars.
Everyone can join the Lite Bright Bike Ride on New Year's Eve and watch the annual town fireworks display over Provincetown Harbor.
Fireworks ring in the New Year on December 31st at McMillan Pier at dusk. If it's not too cold, the best views of the fireworks are on the beach by the pier. Revelers can also watch the fireworks from nearby bars, clubs, and restaurants with decks and indoor seating.
On New Year's Day 2024, Provincetown will celebrate the seventh annual  Provincetown Polar Bear Plunge. The event brings together hundreds of intrepid swimmers, inspired by music spun by a New Year's Day DJ, for an event to support The Center for Coastal Studies. At noon, weather permitting, registrants will run, splash, and plunge into the waters of Provincetown Harbor. The cost for single registrants is $60.
For more on Provincetown's Events, Festivals, and Weekends, visit Provincetown Tourism.